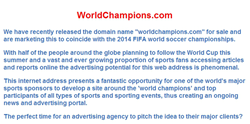 London, England, UK (PRWEB UK) 22 July 2014
Domainwise.com, a UK Company who specialise in the sale and development of high quality generic domain names, have today released the premium Dot Com sports domain WorldChampions.com for immediate sale.
The release of this prestigious domain name is timed to coincide with the culmination of the 2014 FIFA Football World Cup and the start of the forthcoming Commonwealth Games in Glasgow.
A spokesman for the current owners of WorldChampions.com commented, "The sporting calendar for 2014 offers unbelievable potential for advertisers to develop, market and monetise this prestigious, naturally searched for, memorable domain name.
"This should be of particular interest to sports sponsors, sports advertising agencies, sports media, sports goods manufacturers, branding agencies and indeed the current or past World Champions of all major sports.
"MediaOptions.com reported that consumers, when presented with a list of unknown companies in their search results, are significantly more likely to click on the exact match domain option.
"DNJournal.com, the Domain Industry News magazine produces a list of premium Dot Com domain names changing hands each year and with the release of such a prestigious domain name as WorldChampions.com it could well challenge for the top spot amongst premium domain name sales this year."
More Information:
Interested parties should view the landing page at http://WorldChampions.com for contact details.
Domain Name Industry Companies & Bloggers can obtain further information and quotes from company spokespersons about this domain name by making contact via the website.