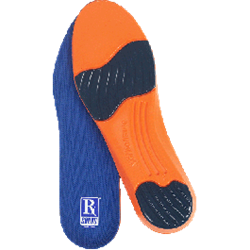 The Ultrawork Insole is an ideal combination of sports and work.
Chicago, IL (PRWEB) January 30, 2015
RxSorbo, a leading online retailer of top-rated shoe insoles, is pleased to announce their decision to extend the competitive price of their sport insole, Ultrawork, until at least May 2015.
"The UltraWork insole is a product we are incredibly proud of," explained Rj Yozwiak, Manager of RxSorbo. "We want to remove every possible barrier to getting this premium sport insole to our customers, so we are keeping the price at a very affordable level at least through May. We hope this gives time to everyone who is starting their Spring sporting season to pick up insoles without worrying about the expense."
To learn more about RxSorbo Ultrawork sport insoles, please visit http://www.rxsorbo.com/ultra-work-sport-insole/. To browse the complete set of available insoles for walking, hiking and sports, one can visit the http://www.rxsorbo.com/insoles/. There, one will find information about the company's classic heel pads, classic insoles, and more.
About the Ultrawork Sport Insole
The price is currently set to $29.95 and is very competitive in the marketplace. Sport insoles are used in sports as diverse as running and walking, as well as by people in work environments who are on their feet daily. The Ultra Work/Sport™ Replacement Insole combines molded polyurethane foam for structural support with Sorbothane®. Strategically placed Sorbothane® inlays provide cushioning comfort and foot-strike protection. Durable and comfortable, Ultra Work/Sport™ Replacement Insoles retain their support and shock-absorbing benefits month after month.
The beauty of this product is that both sports-fans and people in the work environment can benefit from a top quality insole at an affordable price.
Sorbothane® Technology: Ideal for a Sports Insole
The technology behind the RxSorbo insoles – Sorbothane® - is a one-of-a-kind visco-elastic polymer. 100% unique - Sorbothane® is a solid that naturally "flows" like a liquid - Sorbothane® absorbs impact shock and provides comfort better than any other insole material available today.
About RxSorbo
RxSorbo is the source for Sorbothane® Shoe insoles (shoe inserts). Sorbothane® uniquely absorbs up to 94.7% of impact shock, and makes for quality shoe insoles for many conditions. People come to RxSorbo for shoe insoles for foot maladies from Plantar Fasciitis to Morton's Neuroma to metatarsalgia to many other conditions. From Shoe inserts for running to top-rated insoles for dress shoes to gym shoes, reviews of the company's shoe insoles prove they are among the best shoe insoles.
RxSorbo
http://www.rxsorbo.com/