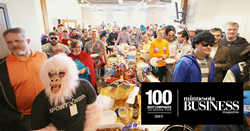 We are very honored to be recognized by Minnesota Business Magazine for a second straight year
Minneapolis, MN (PRWEB) March 26, 2015
Sport Ngin announced today that it has been selected by Minnesota Business Magazine as a "100 Best Companies to Work For" in Minnesota for 2015. The list, comprised of 100 Minnesota companies, was selected based on employee surveys administered by the magazine. This is the second straight year that Sport Ngin has been included on the list.
"We are very honored to be recognized by Minnesota Business Magazine for a second straight year" said Carson Kipfer, co-founder and chief evangelist at Sport Ngin. "We added more employees in 2014 than any other year in our history. With that, we've worked hard to keep Sport Ngin a workplace that top talent wants to join, and this is a validation that it really is. We're so proud of that. "
A world-class technology innovator, Minneapolis-based Sport Ngin specializes in the execution of digital sports content strategy, design, and marketing. With more than 400,000 sports organizations, teams, leagues, clubs, associations, and tournaments currently using its proprietary software platform, also known as Sport Ngin, the company is one of the largest privately held sports technology companies in North America.
"This summer, we'll be moving our headquarters to a brand new office space just down the street in Northeast Minneapolis. We've had the Sport Ngin employee experience top of mind during the entire space planning process. We want Sport Ngin to be the best place to work, period." added Kipfer.
A celebration for the 100 Best Companies to Work For in Minnesota will be held June 4, 2015 at The Depot Renaissance Minneapolis Hotel. Sport Ngin is a growing organization and available career opportunities can be found on their website by visiting http://www.sportngin.com/careers.