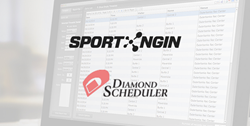 This integration takes out so many steps and is exactly what our customers have been asking for. We're excited to already see significant adoption.
MINNEAPOLIS, Minn. (PRWEB) March 24, 2016
Sport Ngin and Diamond Scheduler announced today a partnership to make scheduling much easier for leagues on the Sport Ngin platform through an innovative new process called DirectLink. Using DirectLink, leagues will set up their teams in Sport Ngin, push those to Diamond Scheduler, quickly set up their schedule, and push that schedule back to Sport Ngin. No more special file formats or down/uploading required. DirectLink is a free to Sport Ngin users who are using Diamond Scheduler.
"Scheduling is one of the most complicated and time consuming activities our league customers have to go through each year," said Justin Kaufenberg, chief executive officer at Sport Ngin. "With this new partnership, our league customers, many of whom already are using Diamond Scheduler, have an incredible new way to set up their league in Sport Ngin, send that info through DirectLink, and complete their schedule in Diamond Scheduler. When it's completed, a click of a button sends it all back to Sport Ngin. It really transforms how our customers put together and share their schedules."
Thousands of sports organizations have chosen Sport Ngin to run their website, tournaments, leagues, online registration & mobile apps. Through these applications, over 500,000 sports teams, clubs and leagues are able to drastically reduce the time they spend on administration and communication, allowing them to focus on spending time with their athletes. Momentum in all sports has accelerated for Sport Ngin with recent agreements signed with governing bodies, organizations, and teams.
"While our customers have been able to import their teams from Sport Ngin to create their schedules, DirectLink takes so many headaches out of the process," said John Hall, CEO of Diamond Scheduler. "This integration takes out so many steps and is exactly what our customers have been asking for. We're excited to already see significant adoption."
DirectLink was released in February and summer sports have already been taking advantage of the new feature to live smarter and play more.
"This is a great example of our strategy to partner with industry leaders to create a whole product solution," added Angie Franks, chief marketing officer for Sport Ngin. "We expect to complete several other integration partnerships like this in 2016, which is great news for youth sports organizations."
# # #
About Sport Ngin
Helping the world play smarter and live more, Sport Ngin is the leading provider of Sport Life Management web software and mobile applications for youth, amateur, and professional sports. Powering more than 500,000 sports teams, leagues, clubs, and associations, Sport Ngin features a complete suite of easy-to-use tools that help sports organizations manage, connect, and communicate with a diverse range of stakeholders, including athletes, parents, administrators, coaches, referees, scouts, volunteers, fans, journalists, and sponsors. Founded in 2008, Sport Ngin is based in Minneapolis, Minn. For more information, please visit http://www.sportngin.com; like the company on Facebook at Facebook.com/SportNgin; or follow Sport Ngin on Twitter at @sportngin.
About Diamond Scheduler
Diamond Scheduler sports scheduling software is a cross-platform (Mac and Windows) desktop application that allows you to create season schedules for any sport — baseball, soccer, darts, football, curling, basketball — you name it. Diamond Scheduler allows you to schedule around difficult constraints such as coaches and players with multiple teams, black-out dates, travel constraints and across-division match-ups. Originally released in 1998, the program has evolved over the last 18 years into a program trusted by thousands of customers. Find out more at http://www.cactusware.com.