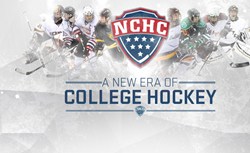 We're honored to have been entrusted with putting together a website that the NCHC, member teams, players and fans will be proud of
Minneapolis, MN (PRWEB) August 01, 2013
Sport Ngin, the leading provider of web based sports technology solutions, today announced the launch of the highly anticipated web home of the National Collegiate Hockey Conference (NCHC). The new website, http://www.nchchockey.com, provides fans & media with the most interactive experience in the world of college hockey.
"Fan engagement through technology is a priority for the conference," stated Josh Fenton, NCHC Commissioner. We will focus our time and attention on the continued evolution of the site and mobile applications to meet the needs of our constituents."
The new website includes complete game and TV schedules, member team pages, individual and team statistics, NCHC tournament information, media and fan zones, and conference information.
"The NCHC represents some of the most exciting and storied teams in the history of college hockey, said Justin Kaufenberg, CEO and co-founder of Sport Ngin. "We're honored to have been entrusted with putting together a website that the NCHC, member teams, players and fans will be proud of. Our shared goal was to create an incredibly interactive website that would connect the NCHC with fans and media like no other conference. We're really proud of the new nchchockey.com"
The NCHC kicks off its inaugural season in October, 2013, bringing together some of the most historic programs in college hockey, with a combined 16 NCAA hockey titles. The new website is designed to provide a year round showcase of the conference, corporate sponsors and member teams as well as connect with fans and media.
# # #
ABOUT SPORT NGIN
Formerly TST Media, Sport Ngin is the leading provider of web software and mobile applications for youth, amateur, and professional sports. Powering more than 200,000 sports teams, leagues, clubs, and associations, Sport Ngin features a complete suite of easy-to-use tools that help sports organizations manage, connect, and communicate with a diverse range of stakeholders, including athletes, parents, administrators, coaches, referees, scouts, volunteers, fans, journalists, and sponsors. Founded in 2008, Sport Ngin is based in Minneapolis, Minn. For more information, please visit http://www.sportngin.com; like the company on Facebook at Facebook.com/SportNgin; or follow Sport Ngin on Twitter at @sportngin.
ABOUT NATIONAL COLLEGIATE HOCKEY CONFERENCE
The NCHC, which includes member institutions Colorado College, Denver, Miami, Minnesota Duluth, Nebraska Omaha, North Dakota, St. Cloud State, and Western Michigan, begins its inaugural season on October 18, 2013, with a double-header airing on the CBS Sports Network featuring North Dakota at Miami followed by Colorado College hosting Minnesota Duluth. Games times to be announced. For more information, please visit http://www.nchchockey.com.