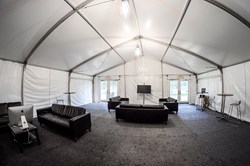 We wanted to create place for coaches and team managers to relax, stay hydrated, cool off and socialize with other coaches and managers from around the world
Blaine, MN (PRWEB) July 13, 2013
Sport Ngin, is hosting an air-conditioned VIP lounge for coaches, team managers and VIPs during the weekend and week long Schwan's USA CUP tournaments.
In addition to air conditioning, guests have access to refreshments, free Wifi, leather couches, game schedules & results, and live game streams from the U1 and U2 fields. Sport Ngin team members are also availble to provide support to Sport Ngin clients and answer questions for teams, leagues & tournament managers who are interested in utilizing the technology behind the Schwan's USA CUP for their own organizations.
"We wanted to create place for coaches and team managers to relax, stay hydrated, cool off and socialize with other coaches and managers from around the world" said Carson Kipfer, co-founder of Sport Ngin.
The popular VIP lounge is open on game days in The Hub located next to the Sport Ngin Sand Soccer field. Any team representative who has been issued a blue wristband or person with a VIP entrance pass can access the lounge.
###
About Sport Ngin
Formerly TST Media, Sport Ngin is a leading provider of web software and mobile applications for youth, amateur, and professional sports. Powering more than 100,000 sports teams, leagues, clubs, and associations, Sport Ngin features a complete suite of easy-to-use tools that help sports organizations manage, connect, and communicate with a diverse range of stakeholders, including athletes, parents, administrators, coaches, referees, scouts, volunteers, fans, journalists, and sponsors. Founded in 2008, Sport Ngin is based in Minneapolis, Minn. For more information, please visit http://www.sportngin.com; like the company on Facebook at Facebook.com/SportNgin; or follow Sport Ngin on Twitter at @sportngin.