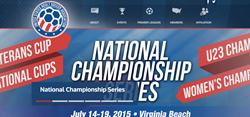 Having world class technology is now an expectation... We believe that with Sport Ngin, that experience will be second to none.
Minneapolis, MN (PRWEB) January 13, 2015
Sport Ngin announced today that it has entered into a long term agreement with US Adult Soccer to expand their technology partnership. The new agreement will have the full suite of Sport Ngin technology including Website, Tournament Registration and Tourney Mobile powering the US Adult Soccer Association (USASA) National Championship Series in July 2015.
The National Championship Series features the historic men's and women's National Amateur & Open Cups. Held at Hampton Roads Soccer Complex, Virginia Beach, VA, the National Championship Series features competition for all levels of adult players from U23 to over 70 years of age. With the significant upgrade in technology providing world class participant and fan engagement, this years event will be the best in it's storied history.
"We are excited to partner with Sport Ngin and take advantage of their market leadership position on mobile applications. We have enjoyed a great experience working with them on our website the past two years and this is a natural progression of our partnership." states Duncan Riddle, USASA Chief Executive Officer. "The USASA National Cups app will greatly enhance our participants experience with everything at their fingertips in real time."
Sport Ngin products and the proprietary NGIN platform are used by thousands of local sports organizations and national governing bodies alike to run their websites, tournaments, leagues, player registration and mobile applications. NGIN clientele represent dozens of sports, including soccer, volleyball, football, basketball, softball, hockey and wrestling and include USA Hockey, USA Wrestling, USA Fencing, National Sports Center, Schwans USA CUP, and Hockey Canada.
"Organizationally, we've worked really hard to provide powerful, yet easy to use, applications for soccer organizations of all sizes. Growth in the number of soccer customers has skyrocketed in 2014, and with partnerships like this, we expect that to continue to rapidly grow in 2015." commented Justin Kaufenberg, Co-founder and CEO of Sport Ngin.
US Adult Soccer has officially opened up team registrations for the National Championships and will launch the National Cups mobile application in the coming months.
"Having world class technology is now an expectation. We want to ensure that everyone connected to our tournament, from officials, volunteers, fans, coaches, managers, players, and the entire community has an incredible user experience. We believe that with Sport Ngin, that experience will be second to none." added John Motta, USASA President.
###
About Sport Ngin
Sport Ngin is the leading provider of web software and mobile applications for youth, amateur, and professional sports. Powering more than 400,000 sports teams, leagues, clubs, and associations, Sport Ngin features a complete suite of easy-to-use tools that help sports organizations manage, connect, and communicate with a diverse range of stakeholders, including athletes, parents, administrators, coaches, referees, scouts, volunteers, fans, journalists, and sponsors. Founded in 2008, Sport Ngin is based in Minneapolis, Minn. For more information, please visit http://www.sportngin.com; like the company on Facebook at Facebook.com/SportNgin; or follow Sport Ngin on Twitter @sportngin.
About USASA
The United States Adult Soccer Association is the premier national soccer organization dedicated to participation in, enjoyment and growth of adult soccer across America. USASA is comprised of 54 NSAs, who handle registration of players, teams, leagues, and referees. The USASA is recognized for providing leadership and valued programs, resources and services to support its member organizations, making "Soccer – your game for life." For more information about US Adult Soccer Association, please visit: http://www.usadultsoccer.com/