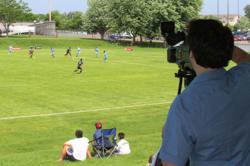 With a truely global tournament like this, we are thrilled that fans around the world can be a part of the action
Blain, MN (PRWEB) July 12, 2013
Sport Ngin, a leading provider of web and mobile-based software solutions for youth, amateur and professional sports organizations, today announced that they will be live streaming all games played on the U1 and U2 fields during the Schwan's USA CUP held July 12-20 in Blaine, MN.
Sport Ngin will be using Broadcast, its brand new live streaming service, to stream the games online. The games are free to view and are available online at http://gamecast.usacup.org .
"Schwan's USA CUP is America's greatest international youth soccer tournament where teams from 22 states and 17 countries are represented" said Carson Kipfer, chief product officer of Sport Ngin. "With a truly global tournament like this, we are thrilled that fans around the world can be a part of the action."
Sport Ngin Broadcast is an easy-to-implement, seamless hardware and software solution that delivers high quality live video streams in a safe and secure manner. Broadcast easily integrates with Sport Ngin websites and is the perfect solution to share your games, tournaments and events with fans anywhere in the world. Broadcast video streams can be viewed on any Mac, PC, iOS or Android device.
About Sport Ngin
Formerly TST Media, Sport Ngin is a leading provider of web software and mobile applications for youth, amateur, and professional sports. Powering more than 100,000 sports teams, leagues, clubs, and associations, Sport Ngin features a complete suite of easy-to-use tools that help sports organizations manage, connect, and communicate with a diverse range of stakeholders, including athletes, parents, administrators, coaches, referees, scouts, volunteers, fans, journalists, and sponsors. Founded in 2008, Sport Ngin is based in Minneapolis, Minn. For more information, please visit http://www.sportngin.com; like the company on Facebook at Facebook.com/SportNgin; or follow Sport Ngin on Twitter at @sportngin.