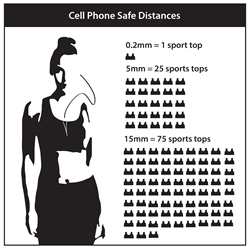 For safe distance, you have to wear 25 layers of fabric thickness for 5mm or 75 layers to get the 15mm of protective distance required. That is unreasonable and uncomfortable!
Charlotte, NC (PRWEB) March 27, 2017
Gaining traction in the news again are continued concerns and further information on the potential dangers of cell phones for their users. In particular, a closer look is being taken at FCC regulations for cell phone safety, radiation (RF) levels and the physical distance a person should be away from their phones to be considered at the approved FCC safe distance for RF exposure.
On Friday, March 24th, Canadian journalist, Wendy Mesley, reported on CBC Marketplace TV and radio with an investigative survey made to find out what consumers really knew about cell phone safe distance use. The investigation uncovered that 81% of those surveyed had no idea and never knew that there was a safe distance to be concerned about for using their cell phone. The survey group didn't know that there was disclosed information, or "fine print", noted within their individual cell phone manuals and online that states that cell phones need to be carried anywhere from 5mm to 15mm away from their bodies depending on the make and model of their phones to meet the FCC standards for safety.
Along with this most recent consumer investigative report, the City of Berkeley in California continues to fight for consumer rights and notifications pertaining to cell phone safety. This US municipality adopted a "right to know" ordinance back in 2015 which required cell phone vendors to post or hand out the following consumer safety notice in their stores:
"To assure safety, the Federal Government requires that cell phones meet radio frequency (RF) exposure guidelines. If you carry or use your phone in a pants or shirt pocket or tucked into a bra when the phone is ON and connected to a wireless network, you may exceed the federal guidelines for exposure to RF radiation. Refer to the instructions in your phone or user manual for information about how to use your phone safely."
This news is not new to Kim Highfield of SportPort, CEO and owner of the women's high-end sportswear company based out of North Carolina. SportPort was the first to launch a line of women's sportswear and active wear that includes a built-in, protective pocket designed specifically for carrying a cell phone close and to shield the body from radiofrequency, RF radiation.
After watching her mother's six-year-long failing battle to breast cancer, Ms. Highfield was determined to be more pro-active towards her own health and safety, as well as that for other women. "While we could all wait for scientific proof on definite connections between cell phones and cancer risks, we asked ourselves 'why wait.'" That was how and why the patented pocket design came to be incorporated into the SportPort sports bra. "While our activewear has been well received because of the comfort and high-end compression fabrics we use, there is still a problem," Ms. Highfield says. "The problem is that our customers don't really know why they need this special pocket yet. We explain and we have tests, but it's been difficult to get the information across in ways our customers can easily understand and see the advantage we give them with our products." This is another reason why the cell phone safe-distance concerns have SportPort collecting new and up-to-date information and data for posting on their website. "We recently released a one-page, easy-to-find information page showing the safe distances and SAR values for all current Apple iPhones on the market." This information can be found directly from Apple's own website, but is tedious to find individual phone information particularly for a certain make and model due to the fact that each phone has varying safe distances. "This new page allows iPhone users to easily look up their make and model to quickly see if theirs is a 5mm safe distance away phone or a 15mm safe distance phone." The web page is titled 'iPhone Safety Guidelines & RF Exposure Information' and quickly shows safe distances as well as SAR values. It can be found at:
https://www.sportportactive.com/iphone-safety-guidelines-rf-exposure-information/
It does appear that while Apple has upgraded the iPhone over the years with various makes and models, the safe distance list and SAR values show that starting from the iPhone 3GS, that had 15mm as a safe distance, the newest iPhone 7 models show the upgrades to lesser 5mm as the safe distance away from body requirements. "Our hopes are that Apple will continue to work toward safer and safer cell phone factors for their phones. I love my iPhone. I don't want to feel concerned about using it, but I will be pro-active about protecting myself too. SportPort is about being pro-active. With several athletes and professionals as part of our team, one of our slogans says: Be Pro Active. Be SportPort Active. We believe in that," states Ms. Highfield.
To help consumers better understand what 5mm up to 15mm means for fabrics and clothing worn when we use our pockets for our phones, SportPort explains, "For example, typical denim fabric is 0.58mm thickness. That means one might need to wear almost 10 layers thick of jean fabric for the pocket to be at a safe distance for a 5mm phone, and 30 layers of denim to get to the 15mm safe distance." Ms. Highfield states. "Then, if you are wearing a woman's top made of nylon or polyester, that thickness is only 0.2mm leaving you having to wear 25 layers of fabric thickness for 5mm or 75 layers to get the 15mm of protective distance. That is unreasonable and uncomfortable!"
The continued research, information and clear disclosures are important for the future of everyone's health and safety. Consumers have the right to know and should easily understand safe-use guidelines when it comes to cell phones. To find out more about FCC guidelines on cell phone safety, visit: https://www.fcc.gov/consumers/guides/wireless-devices-and-health-concerns
For more about SportPort Active and their approach to helping with safe distance concerns with their unique sportswear and active wear designs, visit: https://www.sportportactive.com