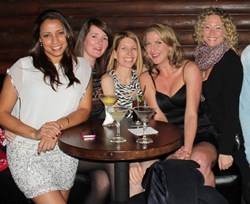 San Francisco, CA (PRWEB) January 31, 2014
The team at Blackthorn Tavern recently opened a new bar, called Cabin. Cabin opened its doors on New Year's Eve, after housing the popular Bigfoot Lodge.
Cabin is the newest bar in San Francisco to embrace a relaxed atmosphere, located in one of the city's hottest neighborhoods for nightlife. An incredibly diverse array of bars and nightclubs are within walking distance. The rustic, log-cabin walls transport patrons to that comforting, familiar place far from the dense, urban atmosphere of downtown San Francisco.
Cabin welcomes guests with log cabin-style walls throughout the interior. Owners David Zimmerman, Adam Croyle and Chris LaMotte — all native San Franciscans — retained this design element from the space's previous tenant, Bigfoot Lodge. The décor reminds Zimmerman and Croyle, who are brothers, of the family vacation home in Grass Valley where they spent much time in their childhood and affectionately refer to as "the cabin."
Located at the base of bustling Nob Hill, Cabin features an array of liquors, beers and specialty cocktails. Cabin offers 11 beers on tap, five special Guinness mixes, specialty cocktails and more than 35 types of whiskey. The refreshing Cabin Quencher combines Dickel Rye whiskey with citrus juices, mint and a lemon wedge. The tantalizing Saint Pear includes Grey Goose La Poire vodka, Saint Germain elderflower, fresh lemon juice and ginger beer with a lemon twist. Bartenders will cure your foggy "Summer Blues" at any time of the year with their drink that mixes Revolucion silver tequila with blue curacao and pineapple — with a cherry on top.
Cabin is open weekdays noon to 2 a.m. and weekends 10 a.m. to 2 a.m. It is located at 1750 Polk St. (at Washington St.), San Francisco, CA 94109.
About the company:
Blackthorn Tavern is the ideal location for fans seeking a friendly outlet to watch live sports. Real fans and real San Franciscans patronize Blackthorn. Even those who don't like sports and typical sports bars will enjoy hanging out at the Blackthorn.
Located in the ever-exciting Inner Sunset neighborhood at 834 Irving Street (at Ninth Avenue), customers are guaranteed to find all of their favorite teams in one place. Call the Blackthorn Tavern at (415) 523-5973 to learn about all the exciting events including karaoke, a drawing for San Francisco Giants tickets on Tuesdays, trivia, pool tournaments and mixed martial arts on pay per view. At Blackthorn, there's always something going on. For more information, please visit its website at http://blackthorn-sf.com.