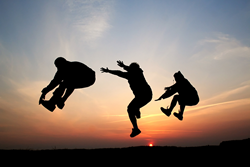 "SportSpeed training kits help athletes across the globe achieve maximum speed, agility, and quickness by teaching proper techniques and using innovative training tools."
New York, NY (PRWEB) February 02, 2016
SportSpeed has now opened its online store, speedandagilityequipment.com. The company is now positioned to better serve athletes who wish to improve their speed and quickness, as well as other exercise enthusiasts who seek a healthier lifestyle through rigorous cardio training.
Sport speed training is not only for extreme athletes who train in order to better compete, but is also a great cardio workout among avid enthusiasts who understand the importance of cardiovascular fitness. SportSpeed is launching its training program throughout various facilities in the United States, and anyone in a SportSpeed licensed facility will have the opportunity to train like an NFL top draft pick.
Advantages of Using SportSpeed's Training Kit
The SportSpeed Training Kit contains nine unique pieces of training equipment. The kit includes speed hurdles, resistance harness, lateral resistor, speed chute, reaction ball, speed ladder, marking cones, instructional training DVD, and an all-in-one carrying bag. The combination of these items makes the kit an excellent purchase for anyone who wishes to improve their speed, agility and quickness or for anyone wanting an extensive cardio workout.
Supported Sports
The SportSpeed training kit plus the latest additions to their equipment line up, the jump rope and hand weights, is definitely a game changer. This makes SportSpeed a great choice for training in all major sports like soccer, football, baseball, basketball, hockey, lacrosse, track and field, swimming, MMA, volleyball, and tennis.
The Key to Speed and Agility
Scott Perkins, President and CEO of SportSpeed says, "Performance is not just about genetics, but is also about trainability, consistent practice, and the ability to react during critical situations using the speed and quickness gained from proper training."
SportSpeed has the training and equipment needed to help you react faster and achieve your speed and quickness goals. The company also offers professional and team training services. This division is headed up under the direction of world class coach and Olympic gold medalist Willie Smith who will help motivate and optimize your teams' performance.
For more information, please visit http://www.speedandagilityequipment.com