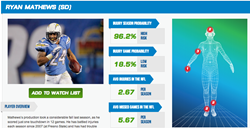 (PRWEB) August 07, 2013
New website and app offer insight into NFL players' chance of injury, rate of recuperation and more.
Sports Injury Predictor, an offering that provides fantasy football fans with insight into NFL players' likelihood of injury, launched today as a website with an app soon to follow. The new tool features probability scores, full injury histories, real-time updates and more to deliver fantasy team owners a comprehensive resource for assessing injury.
A subscription-based solution, Sports Injury Predictor introduces a measurement called Injury Probability Score, a rating that measures each NFL players' probability of injury. The score is designed to give fantasy team owners a better sense of the players that are most likely to miss games.
"The impact of injuries on fantasy football is huge. Every game that a player sits out dramatically affects the success of your team," said Sports Injury Predictor's company spokes person Kirsty Ainsworth. "I think most fantasy fans have experienced having a top draft pick who ends up getting injured and missing a good portion of the season. This offering takes injury, a factor that is usually left to chance, and makes it measurable so that it can be evaluated alongside all the usual performance statistics."
Injury Probability Score is determined by numerous qualitative and quantitative factors, such as age, position and previous injuries. An algorithm is used to identify a single score that rates each player's chance of injury using over 50 points of data. A percentage chance of injury is worked out for the season as well as a game on game basis so that it fluctuates with a players health and other circumstance that feed into the model.
"Our process is similar to the one insurance agencies use to determine the right bet to make on a player's health," said Ainsworth. "We look at a player's personal injury history and compare it to that of all the other players in that position, and factor in things like weather and age as well. This gives us the best possible prediction of who is most likely to get injured and for how long."
Through Injury Probability Scores and related data and analysis, Sports Injury Predictor provides fantasy fans with valuable information to help guide decisions they face throughout the season:

Determining realistic average draft position for each player based on their likelihood of injury and missed games
Answering sit or start scenarios for players with questionable status
Identifying trade arbitrage opportunities based on a player's average rate of recuperation
Assessing where depth is needed due to the team's injury volatility
Sports Injury Predictor is available for purchase at http://www.sportsinjurypredictor.com and is coming soon to the iTunes App store as well as the Google Play store. For more information, please visit the site or follow SportsInjuryPredictor on Facebook and @InjuryPredictor on Twitter.