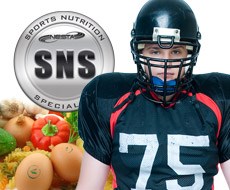 All fitness and sports coaching pros must have a deep understanding of sports nutrition to help their athletes reach top levels of performance
Rancho Santa Margarita, CA (PRWEB) October 31, 2013
Ever wonder how football players are able to return from major injuries in just weeks? How ultra-marathon runners can keep going and going and going without stopping to eat? As many sports and athletics fans know, food and performance are intricately linked. To further examine the role of nutrition in sports performance, the National Exercise and Sports Trainers Association (NESTA) has a 100 percent online Sports Nutrition Specialist training program.
Available at http://www.nestacertified.com/sports-nutrition-training-course/, the Sports Nutrition Specialist focuses on cutting-edge techniques that reduce recovery time and enhance well-being for clients, building new skills to increase earning potential, and amassing tools and strategies for improving the performance and nutrition for athletes of all levels.
"The old adage 'you are what you eat' really comes into play when you talk about sports, whether you play basketball twice a week or are training for a 100-mile bike race," said John Spencer Ellis, founder of NESTA. "When you learn how to use nutrition to increase performance and reduce recovery time, you can help anyone you work with meet their goals and find success both on and off the court."
The NESTA Sports Nutrition Specialist program is designed for personal trainers, strength coaches, group fitness instructors, martial arts coaches and others interested in helping their clients with nutrition and sports performance. The program is 100 percent online and self-paced; it generally takes one to two weeks to complete.
"We designed this program to give you the knowledge you need to differentiate between nutrition facts and nutrition myths. Nutrition can be confusing to clients, with conflicting opinions and ideas about the fuels to choose, the thousands of dietary supplements available, and what and how much to drink. We cut through the hype and provide you with a scientifically sound program that works both in the lab and on the field," Ellis added.
Topics covered include sports nutrition basics, the digestive system, energy systems and needs, macronutrients, translating research into results, body composition, methods for effective weight loss and gain, dietary supplements, eating disorders in athletes and more.
About NESTA
Since 1992, National Exercise & Sports Trainers Association (NESTA) has been a leader in innovative solutions for fitness, nutrition and wellness professionals, as well as club owners. Founded by John Spencer Ellis, NESTA now has more than 55,000 members in 55 countries, and it is one of the largest fitness associations in the world, and the fastest growing association of its kind in the United States. For more information on NESTA's Sports Nutrition Specialist training, please visit http://www.nestacertified.com/sports-nutrition-training-course/