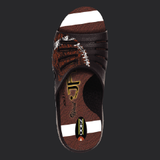 Jukz Shoes is the perfect match for collegiate sports.
Dallas, TX (PRWEB) December 18, 2013
Jukz Shoes is proud to announce a new licensing deal with Licensing Resource Group, who represents more than 180 universities, colleges, athletic conferences, and special properties nationwide.
"Maximizing our relationships with collegiate athletic departments is at the core of our strategy for 2014," said Jukz founder Johnny de la Valdene.
Scooping up licensing agreements left and right, Jukz Shoes is hoping to be all over collegiate bookstores at Baylor University, Rice University, Texas Tech University, Texas Christian University, Kansas State, Hawaii, Southern Methodist University, University of Pennsylvania, United States Naval Academy, the University of Houston, and The University of Notre Dame.
"We are very excited for the opportunity to be a part of the fan experience at these great colleges and universities," explains de la Valdene. "It's truly an honor."
Jukz Shoes is the perfect match for collegiate sports. They take recycled sports ball material and manufacture an innovative line of sports flip flops and slides that encourage the college sports fanatic to 'Wear Your Sport.'
"We know that this is the perfect market for our fan friendly flip flops and slides," said de la Valdene. "Our first license was with the University of Notre Dame. Our initial launch was a huge hit in the bookstore. We were thrilled with the reception."
Looking to expand to other schools in 2014, Jukz Shoes is prioritizing the schools where the fans are reaching out. "While we would love to be in every bookstore in the United States tomorrow, the reality is that each new license takes time," explains de la Valdene.
"We have been keeping track of the enthusiasm of fans from schools that reach out to us. That's part of the reason why we went after the Baylor license. We were approached by a group of alumni that loved the idea of our sports slides, but wanted to support their college team. Given the demand from the fans, we made the decision to go forward and try and secure the license," said de la Valdene.
If you want to know when Jukz Shoes will be making an appearance in your bookstore, reach out to Jukz Shoes on facebook or instagram or on their website at http://www.wearyoursport.com.