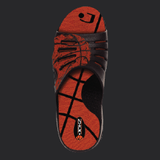 Dallas, TX (PRWEB) April 30, 2014
Jukz Shoes is the most innovative and exciting sports product on the market, as it uses the same material found in sports balls to manufacture a creative line of sports flip flops, slides, backpacks, and hats inspired by each sport.
This unique style of sports products has inspired many colleges to jump on the Jukz Shoes bandwagon, and now, many college fans can show support for their school while wearing an innovative and exciting product.
The company has taken the state of Texas by storm by acquiring licenses from TCU, SMU, Baylor, Texas Tech, University of Houston, North Texas, and Texas State.
"All the big Texas schools are partnering with Jukz to create connections with their alumni and fans," said Jukz Shoes CEO, Johnny de la Valdene.
Jukz Shoes looks to continue to expand its brand to more colleges, with the University of Texas as one of its top priorities. UT freshman, Ford Albert, says, "Jukz Shoes would be the perfect way for Longhorn fans to show their support and love for the University of Texas, and be extremely comfortable while doing so. Hopefully, they will be available soon, but until then, I will keep on wearing my standard Jukz."
With its innovative and exciting style, there is no question that every college fan will want to have their own school's Jukz Shoes.