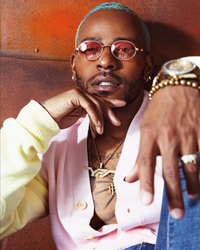 "We're excited to reopen Hotel Constance Pasadena and celebrate America's 245th Birthday, after being on hiatus due to worldwide pandemic"
PASADENA, Calif. (PRWEB) June 30, 2021
Hotel Constance Pasadena and MediaCast365 today announced an upcoming event to be held at Hotel Constance in Pasadena, CA, this July 4th weekend after being closed for more than one and a half years.
4.5 Star Hotel Constance is a colorful boutique hotel situated a block from South Lake Avenue District, the central business area of downtown Pasadena. The Hotel Constance is a historic hotel built in 1926. The property was named after Constance G. L. Perry who purchased the property in March 1926, and was listed in the National Registry of the Historic Hotels of America in 2016.
This 4th of July Weekend, Hotel Constance and MediaCast365 sponsors a three-day extravaganza hosted by Sports Illustrated Cover Model Jasmine Sanders @goldenbarie. The event kicks-off Friday, July 2nd at 5:00 PM with a happy hour and live performance by jazz eclectic Ryan Cross with Ashley Tamar Davis.
Saturday and Sunday, July 3rd and 4th Attendees will enjoy VIP Poolside Cabanas, bottle service, and gourmet cuisine with live performances by R & B crooner Jon B, Candace Boyd,Triple-Threat Eric Bellinger, soulful recording artist Von, Grammy Nominee Guordan Banks. Music sounds by 93.5 KDAY DJ/Radio Personality, PJ Butta, Tastemaker DJ Dre Sinatra, of iHeart Radio's Real 92.3 and Sirius XM's SHADE45 and Kevin Nash, accomplished KJLH Radio Personality, vocalist and songwriter, producer featuring Francois Dean.
About MediaCast365:
MediaCast365 launched in 2021, is a digital and video production and marketing agency that expands "the limits of what's possible for our clients. We do this by delivering creative solutions rooted in the diversity of thought and brand identity. Our team works hard to bring to life our client's brands messaging in the social space. We assist clients in evolving into their full potential with digital marketing and growth solutions".
MEDIA CONTACTS:
Celebrity Style Entertainment
Email: sabrinaj@celebritystyleent.com
Phone: (818) 913-2672