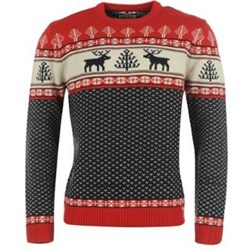 (PRWEB UK) 18 December 2013
Christmas Jumpers have grown with popularity over the years and with people donning them on to raise money for charity, adding a festive atmosphere at work and generally brightening up the dark and colder days, they have become a Christmas sensation. SportsDirect.com take a closer look at their prevalence.
Before now they have predominantly been the hand-made knitted gift that grandparents and great-aunts love to give, with people around the world forcing a smile and trying to sound grateful. However, times have changed and now people everywhere are hoping to receive a novelty Christmas Jumper this season.
The 80s saw pop stars and television presenters wearing them throughout December, which started off the 'cool' trend, but they fell into a trough by the 90s, and were once again branded as the joke Christmas present. It is only in the past three years that they have become a sought after, 'must-buy' for the Christmas period with almost every online and store retailer selling them.
SportsDirect.com have an abundance of Christmas jumpers, some more subtle than others. They have a selection of prints, including jumpers with Santa's, snowmen and reindeers on them, as well as knits with the classic wintery fair isle print and festive scenes so people can choose how brash they want to be.
Although named Christmas jumpers, the more subtle sweaters with simply a wintery theme can be worn before or after Christmas making them the perfect all-round winter knit. They definitely add to the cheery, festive ambiance at this time of year and with such a vast selection there is no doubting why they have grown to be so popular.
Visit http://www.sportsdirect.com/christmas/christmas-jumpers for their full range of festive knitwear and take a look at http://www.facebook.com/sportsdirectuk and http://www.twitter.com/sportsdirectuk for their competitions and latest products.
For all media inquiries please contact Stacey.Topley(at)sportsdirect(dot)com or 0870 333 9400
Made by famous brands such as Nike, Adidas and Reebok, the clothing, luggage, sports wear and sports gear will not only help you train and improve in your chosen sport or activity whether you are a beginner or a professional, but our exceptional value will mean you can get more for your money! You can keep fit, socialise or simply enjoy yourself wearing the clothing and footwear from SportsDirect.com.