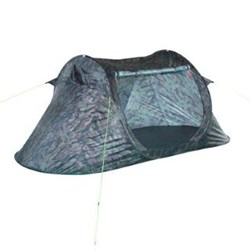 (PRWEB UK) 8 August 2013
When you think of a festival, one of the main features that springs to mind is that you have to camp in a field, and over time this has included festival tents, campervans, yurts and tepees. SportsDirect.com take a look at the evolution of festival accommodation and how it changed for avid festival goers.
Introduced in 1950, the Volkswagen Campervan had, and still has, a reputation for being one of the coolest forms of transport around. Commonly known as the 'hippy van' during the 1960s/70s, the campervan was the vehicle of choice for virtually all festival goers and could be seen covered in funky patterns, flowers and was a place to show off your artistic side. One of the main benefits of a campervan is that it is a mobile home. You can throw in everything you need, you don't need to lug all of your belongings from the car park to the campsite and - let's face it – they are much comfier than sleeping on the hard ground.
However, as festivals grew year by year, campervans and motor-homes were no longer allowed to park up in the festival campsite and they incurred a charge for a campervan ticket, meaning more and more people opted for the festival tent.
Being smaller and compact it meant there was room for more people, and festivals developed more of a community feel with people saying a friendly hello to their 'neighbours'. Tents have also progressed, now boasting waterproof exteriors, windows, pop-up designs and room for your muddy wellies; people have even been known to take four to five man tents for just the two of them so they can have more space and room for everything, including the kitchen sink.
Nowadays people are embracing the idea of glamping, and camping at festivals have evolved again. Although the majority of campers still opt to camp in a tent, there are a vast range of options if you fancy a touch of luxury and don't fancy roughing it. The likes of Pod Pads, Yurts, Emperor Tents and Tepees are all the rage among most festivals, including V Festival. Campervans have returned with a vengeance - not only have they bought back the coolness they oozed in the 60s, they now have that retro edge.
So, if you prefer glamping then here are out top tips for accommodation:
1) Research the nearest B'n'B's - commuting into the festival is always an option.
2) If you have a campervan or caravan use that.
3) Opt for Pod Pad, Yurt or Tepee provided by the festival.
4) If you have to stay in a tent take an airbed, pillows and a warm, cosy sleeping bag.
5) Wherever you end up staying, the most important thing is that you have fun!
If you're heading to V Festival, Leeds/Reading or Creamfields log on to http://www.SportsDirect.com/outdoors for all of your festival essentials, or take part in our camping survey: http://goo.gl/daPwt6. You can also visit their official Facebook and Twitter pages to keep up-to-date with the latest trends and competitions.
For all media inquiries please contact: Stacey.Topley(at)sportsdirect(dot)com or telephone: 0870 333 9400.