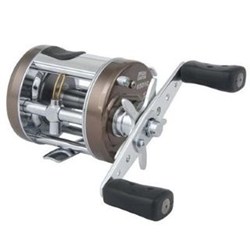 (PRWEB UK) 14 August 2013
As we're in the midst of National Fishing Month there is no better time to take a look and explore different areas of fishing. SportsDirect.com delve into the realms of sea fishing and have a look at what is involved.
There are two main types of sea fishing: Inshore and Offshore with the fundamental difference being the depth of the water – Inshore is less than 30metres deep and Offshore, also known as open water or deep sea, is anything deeper than 30metres. Generally Inshore boat fishing is great for beginners and is carried out on smaller boats such as row boats, kayaks, dinghy's, small cabin cruisers or float tubes. However, Offshore fishing boats are usually much bigger and more in-depth knowledge is needed in regards to weather patterns, navigation and general safety, so is best left up to the more advanced sea fisher!
Sea fishing tackle
Rod – a rod between 9 or 10 feet is the norm
Lines – for Offshore boat fishing a line between 30-50pounds is required, but for Inshore they can be anything between 18 and 50 pounds
Reels – either a multiplier or a fixed spool reel. Recently fixed spool reels have become increasingly popular and they have the line wrapped around a spool which does not rotate and is therefore still at all times, it is also quite versatile. Multipliers, however require specific rods, but providing they are set up correctly and are tight, they are very easy to use
Bait
When it comes to bait both Offshore and Inshore sea fishing there is no difference. Squid, conger eels, small sharks can all be used and artificial versions of this can also be found and they do exactly the same job!
Preparation
As everyone knows it's cold at sea! Pack lots of layers and think bout wearing bright colours, or fluorescents to be on the safe side, and always ensure to pack some food, mainly carbs, warm food and snacks to keep you going whilst you're out at sea.
Respect
Sea fish are covered in slime that protects their skin from harmful bacteria so it is important that they are treated with care and that they aren't released onto pebbles. Dampening your hands with sea water will also help to protect them.
For a range of sea fishing tackle log onto SportsDirect.com/Fishing/Sea-Fishing or join the conversation at their official Facebook and Twitter pages.
Made by famous brands such as Nike, adidas and Reebok, the clothing, luggage, sports wear and sports gear will not only help you train and improve in your chosen sport or activity whether you are a beginner or a professional, but our exceptional value will mean you can get more for your money! You can keep fit, socialise or simply enjoy yourself wearing the clothing and footwear from SportsDirect.com.
For all media enquiries please contact: Stacey.Topley(at)sportsdirect(dot)com or telephone: 0870 333 9400.