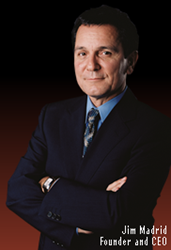 Scottsdale, Arizona (PRWEB) January 07, 2014
Sports psychology expert Jim Madrid has toured around the country speaking about his 7 Fundamentals of Mental Toughness. Athletes around the world have benefited from his messages that enhance player performance on and off of the field. This January, Jim Madrid is thrilled to announce that he will be presenting at the 2014 National Soccer Coaches Association of America (NSCAA) Annual Soccer Convention to be held in Philadelphia, Pennsylvania from January 15-19, 2014.
Known fondly as "Soccer's Biggest Party," attendees from all aspects of the sport of soccer attend including coaches, referees, business leaders, players, fans and more. A long list of clinicians is set to present including top coaches and players from around the world. Several sessions and lectures will be presented throughout the week on a wide range of topics from coaching to training to building a program and more.
Sports psychology expert Jim Madrid will be presenting a lecture on "Mental Toughness for Youth, Coaches, Referees and Parents," from 12:45 - 1:45 p.m. This session will provide an overview of Mr. Madrid's 7 Fundamentals of Mental Toughness, which covers strategies that youth can use to set and achieve goals, both on and off the field. Mr. Madrid will also be providing insight as to what Coaches, Referees and Parents can do to support young athletes as well as how to set and achieve ever-higher levels of success for themselves.
"I wish I had this program when I was younger," said Brad Evans, Seattle Sounders FC, Midfielder and USMNT Defender.
Jim Madrid has worked with sports teams from around the world in order to help them to achieve success off and on the field. He has worked with the Seattle Sounders FC professional soccer team as well as the University of California, Irvine and Seattle University.
"If the mental part of the game is 80-100 percent, what program or process is out there to assist the coaches to implement the mental aspect?" sports psychology expert Jim Madrid said. "That is what we offer. These are life lessons that will teach players, coaches, parents and referees better focus, resiliency, and character that will last them a lifetime."
For more information about Jim Madrid, the 7 Fundamentals of Mental Toughness and Advance Sports Technology, Inc., visit http://www.jimmadrid.com