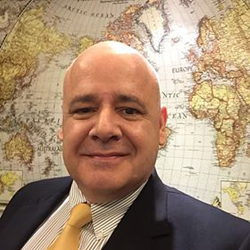 VT Group partners with customers to provide full capability in apparel design and manufacturing.
Jacksonville, FL (PRWEB) April 20, 2017
Thomas D'Innocenzi, Founder of Nova Advisors has announced an agreement to represent VT Group to US outdoor apparel and sportswear brands. Based in Bangkok, Thailand with multiple manufacturing locations in Myanmar and Thailand, VT Group has a 35-year history providing OEM and ODM manufacturing in outdoor and sportswear apparel to top labels worldwide.
"The needs of the US consumer in outdoor and sportswear apparel that is durable and leading-edge in functionality and style requires an OEM/ODM manufacturer with proven capability in excellent manufacturing technology and rapid response to keep their brand buyer profitable," explained Founder and Principal Consultant Thomas D'Innocenzi. "The management of VT Group is founded on the principals of sustainability. These principals are based on customer satisfaction, high quality, high social commitment and operational profitability. With multiple locations throughout Southeast Asia they are providing real value to their customers. They have the capability and capacity to take on more contracts, and Nova Advisors will make US brands and buyers aware of this unique opportunity."
Chalumpon Lotharukpong, Managing Director of VT Group explains "VT Group has made significant investments in operations and the quality of staff to provide apparel customers the very best value globally. In addition, manufacturing facilities have been expanded in Southeast Asia to provide best value. VT Group partners with customers to provide full capability in apparel design and manufacturing. The success of VT Group is based on strict adherence and certifications in sustainability and social responsibility coupled with continued investment in technology and lean manufacturing. VT Group strives to be the world class partner of choice for outdoor and sportswear apparel design and manufacturing."
VT Group specializes in outerwear and sportswear ranging from jackets, functional clothes, to jogging suits, shorts, and vests. Current capacity is over 182,000 pieces per month. All production is in-house including welding, laser cutting, embroidery and screen printing. VT Group handles a variety of fabrics from knit to woven to fleece to softshell with technical features.
Thomas D'Innocenzi of Nova Advisors serves as a global marketing and branding advisor to VT Group providing support in Thailand and the United States. In addition, Nova Advisors assists VT Group in market research, sustainability, sourcing and supply chain optimization.
About VT Group
VT Group is a world class designer and manufacturer of Sportswear and Outerwear. The company has facilities in Thailand and Myanmar, employing around 3,000 team members. Entering their fourth decade, they combine the 4 M's of production, Man, Material, Method and Machine effectively and efficiently. Their management and staff continually improve their design and manufacturing processes to maintain their best-of-class position in outdoor apparel and sportswear manufacturing. They have recently installed solar panels which contribute around 10% savings in energy usage and fully adhere to international standards in sustainability. In 2013, they improved their ERP capabilities by implementing Infor Cloudsuite Industrial to standardize operations, track materials as well as access critical production data to engage effective process improvements. More information can be found at http://www.vtgarment.com.
Based in Jacksonville, Florida and Bangkok, Thailand, Thomas D'Innocenzi, Founder and Principal Consultant of Nova Advisors helps companies compete globally by offering expert Global Sourcing and Business Development consulting services. Mr. D'Innocenzi has over 30 years of experience in international trade and business development with multinational corporations in the US and Asia. He has worked and lived in several countries in the Asia Pacific region. With locations in the United States and Asia and with a large global network of buyers and suppliers, Mr. D'Innocenzi offers a value-added unique service for customers seeking to effectively expand their market footprint globally while managing risk. More information can be found at http://www.novaadvisors.com.
Contact:
Nova Advisors
Thomas D'Innocenzi
Thomas(at)NovaAdvisors.com
904-307-6414
VT Group
Chalumpon Lotharukpong
chalumpon(at)vtgarment.com
+662.294.3748-9