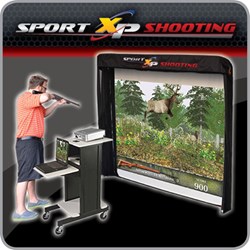 The Sport Xp Series just got better.
Lafayette, CO (PRWEB) August 30, 2013
Custom simulator designer Sports Entertainment Specialists, Inc. (SES) announces the newest addition to their growing simulator product line. The Sport Xp Shooting model utilizes state-of-the-art components to deliver a portable and realistic shooting gallery designed for education, training and entertainment. "This system was created to provide a safe environment for training, education and skill development while still being fun," stated Todd Mallon, President of SES.
As part of the growing line within the Sport Xp Series, the Shooting model is extremely versatile with the ability to add many other sports including car racing, golf, gaming consoles, and more. The turnkey package comes ready for action and includes an 8 by 8 foot simulator screen, a HD Projector, sim-optimized computer with a 22-inch touch screen. Plus, it includes three inert laser-based replica weapons (rifle, pistol and shotgun) expanding its versatility for practice and education.
The core of the system is powered by Laser Shot hardware and software and provides all the components necessary for a portable shooting gallery. "The Sport Xp Series just got better. The Shooting model is ideal for all skill levels and comes with 20 hunting and marksmanship software titles which provide plenty of challenging entertainment," commented Jason Trupp, Sales Manager at SES.
The new SES system is small enough to be used in most home basements and has strong potential in commercial environments. By adding the Hunter's Education Package, the Sport Xp Shooting simulator becomes a valuable teaching tool. The entire system can fit in the trunk of a car and sets up in less than 30 minutes. Trainers can customize the course software with their own slides and provide classroom education and demonstrations at any location.
"The development of the Sport Xp Shooting model delivers on our promise to deliver a complete shooting gallery that is beneficial and fun for experienced hunters, novices and educators," concluded Mallon. With a strong foundation of cutting edge technology, the Sport Xp Series keeps expanding the possibilities for in-home and commercial use. Learn more here.