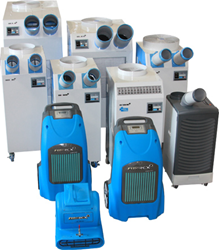 Waco, TX (PRWEB) August 25, 2014
Portable Rental Solutions (http://www.portablerentalsolutions.com), a leading provider of spot cooler rentals, has announced the opening of its new San Antonio office. The new office marks the company's fifth rental location in the state of Texas.
"We've served the San Antonio mark for years through our Austin office," says Shane McCourt, regional sales manager for Portable Rental Solutions. "This new office means we can better support customers in Central Texas."
The company's new office is located at 18838 FM 2252, Suite C, San Antonio, TX 78262 and serves customers in San Antonio, New Braunfels, Canyon Lake, Kerrville and surrounding cities.
McCourt's company rents "spot coolers," portable air conditioning systems that are often used in an emergency, such as when a company's air conditioning system breaks down.
"Our San Antonio office keeps a large inventory of spot coolers on-hand," says McCourt. "That means we can respond to an emergency more quickly, getting the equipment on-site in very little time."
Portable Rental Solutions' spot coolers roll into place on casters and feature simple installation, allowing them to direct cold air to a hot spot that needs cooling.
McCourt says that his systems are often used to cool computer server rooms, help hospitals control the temperature of delicate medical supplies, or to help warehouses, offices and schools control temperature. The company rents spot coolers ranging from relative small systems that plug into a standard wall socket and have an 11,000 BTU cooling capacity, to industrial systems with an 145,000 BTU cooling capacity.
For details about the new San Antonio office, call (210) 444-0984 or visit http://www.portablerentalsolutions.com/catalog/pc/Locations-San-Antonio-d24.htm.
About Portable Rental Solutions
Portable Rental Solutions provides portable air conditioning units, evaporative "swamp coolers," dehumidifiers and HEPA air scrubbers, as well as a range of portable heating equipment to businesses that have a short-term or emergency need for additional HVAC equipment.
Portable Rental Solutions can be reached 24 hours a day, 365 days a year.
For more information, call Portable Rental Solutions at 800-699-8998 or visit their web site at http://www.portablerentalsolutions.com/catalog/pc/home.asp.