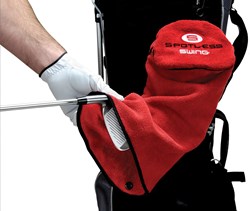 The hosts at Tee It Up put on a great show and it is always a lot of fun to chat with them about golf and of course Spotless Swing.
Longmont, CO (PRWEB) October 18, 2013
Scott Salzman, inventor of the Premium Multi-Use Spotless Swing Golf Towel, and President of BrightSpot Solutions, LLC®, will be a featured guest on the Tee It Up Radio Show this Sunday, October 20th.
When asked about Sunday's show, Salzman noted, "I am looking forward to the appearance. The hosts at Tee It Up put on a great show and it is always a lot of fun to chat with them about golf and of course Spotless Swing."
About Spotless Swing Golf Towel
Designed in the shape of an oversized head cover, Spotless Swing replaces the need for golfers to carry multiple towels and an awkward, messy brush.
Spotless Swing functions as three towels in one:
1. Outside keeps the hands, face, glove and grips clean and dry;
2. Inside protects and preserves golf clubs by removing dirt, mud and water; and
3. Revolutionary MicroBrush™ fabric cleans club grooves effortlessly preparing the club for its next shot.
A portion of the inside of the multi-use golf towel is made of a uniquely designed MicroBrush fabric that easily cleans the grooves of the club-face where dirt hides from ordinary towels. The fabric is coarse enough to clean deeply into the grooves yet soft enough to not damage the golf club finish, and absolutely no water is needed. The ultra-high quality microfiber fabric that makes up main body of Spotless Swing absorbs over 600% of its weight in dirt, mud and water.
Spotless Swing is available in eight colors: Black (with red trim), Red (with black trim), Solid Black, Pink, Royal Blue, Navy Blue, Hunter Green and White. The golf towel conveniently attaches to any golf bag with the included carabineer clip.
Custom embroidery is available for Spotless Swing. Logoed towels are available for golf events or as a promotional golf product, http://www.spotlessswing.com/Wholesale.
About BrightSpot Solutions, LLC
BrightSpot Solutions was founded by Scott Salzman in 2003 as an outlet for invention. BrightSpot has created an entity of unparalleled functionality and professionalism providing consumers and professionals with the absolute highest quality and functionality amongst its products. Our commodities promote healthy environments for humans and animals alike.
About the Tee It Up Radio Network
AMERICA'S #1 INDEPENDENT & FAMILY OWNED GOLF AND LIFESTYLE RADIO NETWORK, the Tee It Up Show continues to expand its reach nationally and touch golf fans every Sunday morning 6-8am PST / 9-11 EST. Now 19 years in the making, the Tee It Up Radio Network is reaching millions of golf and travel enthusiasts across the US and Canada.
Hosts of Tee It Up include:
Alan Gottfried is an 18 Handicap, co-founder of the network, not to mention amateur to the game. Al contributes by giving his opinion this this week's hot topics.
Adam 'AJ' Gottfried is an "inconsistent" scratch golfer, co-founder of the network. Adam contributes to the show by expressing his youthful insight to the game.
Kevin Smith is a five handicap, passionate golf historian bringing his knowledge of golf to the microphones.
Coach K. Tracy Roberts is a world renowned golf instructor, PGA instructor, Tee It Up's instructional coach and founder of Play Real Golf.
Flagship: AM870 THE ANSWER KRLA – Los Angeles/Southern California

LIVE Internet Stream at http://www.teeitupshow.com & CRNTALK.COM on Sunday mornings -Channel 1
FEATURED Podcast at teeitupshow.com
Members of the media interested in testing Spotless Swing for editorial review should contact Scott Salzman for a sample.
For more information about Spotless Swing or using Spotless Swing as a golf promotional product, visit: http://www.spotlessswing.com.