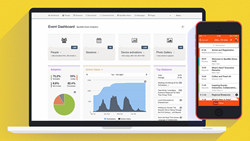 The SpotMe Backstage self-service platform has proven to be the most flexible and powerful tool to build custom event apps that meet our client-specific requirements to create memorable and successful events. -Doris Pfiffner, Eventrix COO
Lausanne, Switzerland (PRWEB UK) 9 June 2015
Leading mobile app specialist SpotMe today announced a partnership with premium event agency Eventrix by providing the Backstage self-service mobile event app and support services.
Backstage is the SpotMe self-service content management system for event apps that allows clients and partners to create and manage their own engaging and highly interactive event apps on SpotMe's trusted platform with access to the most comprehensive tool suite on the market.
Eventrix has already successfully used Backstage to build customised apps for high-profile events delivered for a key account and now plans to leverage Backstage for other major events around the world.
Pierre Metrailler, SpotMe CEO Europe said, "For the past 2 years we have made strategic investments in developing our Backstage technology, assembling support teams and creating training programmes that enable selected 3rd parties to deliver frictionless event apps using our platform. We are delighted to partner with Eventrix who share similar values of providing the most engaging events with flawless execution."
Doris Pfiffner, Eventrix COO added, "Our focus is on organising the most effective, high-quality events for our clients. The SpotMe Backstage self-service platform has proven to be the most flexible and powerful tool to build custom event apps that meet our client-specific requirements to create memorable and successful events."
About SpotMe
SpotMe was founded in 2000 in Lausanne, Switzerland and was a pioneer in animating events with mobile technology. SpotMe currently supports more than 700 events a year around the world with offices in Lausanne, Chicago and Singapore. SpotMe uses its mobile technology and services to transform events to reach their full potential and maximize ROI for the event organizers by engaging participants through a large range of interactive tools, facilitating their access to content and catalysing networking.
SpotMe offers several levels of service. Full-service where SpotMe builds and brands the app for each event, manages all data and works on site to ensure a flawless event experience. Backstage, its self-service platform that allows clients to build and manage their own event app, and different levels of support service depending on the clients' requirements.
About Eventrix
Eventrix AG was founded in 2004 and is based in Wildberg in the Zurich uplands and also has an office in Singapore.
Eventrix places its focus on flexibility and the individuality of customer orders. For each area of our portfolio which includes the main event services Production, IT and Photography we cover the phases of conception and project management with an internal expert. For implementation we put together a team with suitable specialists from our well-maintained network of freelancers. Many years of cooperation with partner companies and a functioning network of international suppliers guarantee efficient work and individual support.