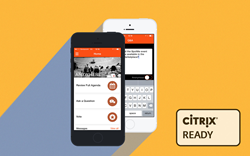 "As a member of the Citrix Ready program, we are able to offer customers intelligent solutions that combine our event platform with Citrix XenMobile." -Pierre Metrailler
Lausanne, Switzerland (PRWEB) November 17, 2015
The SpotMe event platform has been verified as Citrix Ready® and is now available in the Citrix Ready Marketplace. The Citrix Ready program identifies third-party solutions that enhance virtualization, networking and cloud computing solutions from Citrix Systems, Inc. The SpotMe event platform completed a rigorous verification process to ensure compatibility with XenMobile, providing confidence in joint solution compatibility.
The SpotMe platform helps clients build and deliver interactive event apps that allow attendees to participate, communicate, and learn—before, during and after events. It is a battle-tested platform that supports all kinds of meetings, from small trainings to large user conferences with thousands of on-site attendees interacting at the same time. Its presence in the Citrix Ready Marketplace makes SpotMe more accessible for enterprise users interested in a secure, verified mobile event app experience.
"As a member of the Citrix Ready program, we are able to offer customers intelligent solutions that combine our event platform with Citrix XenMobile," said Pierre Metrailler, CEO Europe. "The offering clearly demonstrates our plans to work closely with trusted partners through the Citrix Ready ecosystem to provide the highest quality experience for our customers."
---
About SpotMe
SpotMe was founded with the vision of transforming meetings and inspiring participants. SpotMe uses mobile technology to spark new ideas, kickstart networking, build teams, drive strategy rollouts and transform education. http://www.spotme.com
---
About Citrix Ready
Citrix Ready identifies recommended solutions that are trusted to enhance the Citrix Delivery Center infrastructure. All products featured in Citrix Ready have completed verification testing, thereby providing confidence in joint solution compatibility. Leveraging its industry leading alliances and partner eco-system, Citrix Ready showcases select trusted solutions designed to meet a variety of business needs. Through the online catalog and Citrix Ready branding program, you can easily find and build a trusted infrastructure. Citrix Ready not only demonstrates current mutual product compatibility, but through continued industry relationships also ensures future interoperability. Learn more at http://www.citrix.com/ready.
---
Copyright © 2014 Citrix Systems, Inc. All rights reserved. Citrix Ready, Citrix Ready Marketplace and XenMobile are trademarks of Citrix Systems, Inc. and/or one of its subsidiaries, and may be registered in the U.S. and other countries. Other product and company names mentioned herein may be trademarks of their respective companies.