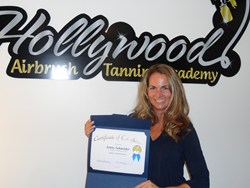 I'm feeling good about the way I look and knowing that I am not exposing myself to more sun damage and potentially skin cancer.
Los Angeles, CA (PRWEB) August 08, 2013
Jenny Schneider from Walnut Creek, California has just started her own new airbrush tanning business named Apres Soleil. Jenny's journey to become an independent spray tanning professional was supported to a great extent by the Hollywood Airbrush Tanning Academy. This Los Angeles based institution is presently the most acclaimed destination in the country for the aspiring spray tanning experts. The academy's hands-on spray tanning certification program has helped many tanning enthusiasts to open their own spray tanning business in this rapidly expanding market. Jenny Schneider's new business is presently serving clients in Walnut Creek, Alamo, Danville, San Ramon, Blackhawk, Pleasant Hill, Concord, Lafayette, Orinda, and Moraga, California.
Jenny is a mother of three young daughters, and she also works as an instructor at Bar Method in Walnut Creek, California. She got interested in spray tanning when her dermatologist told her that she has permanent sun damage and needs to stay out of the sun. Spray tanning makes her look and feel a lot better and she decided to share this healthy alternative with others. According to Jenny, her future business goal is "to provide people with a personal, professional, and fun spray tan experience. As we get older the sun is not our friend and I want people to know that there is a healthier alternative to achieving a tan."
Hollywood Airbrush Tanning Academy was founded in 2011 by Simone Emmons, one of America's most proficient airbrush tanning experts. The academy has a high track record by training over 100 spray tanning entrepreneurs from all over the country. The personalized and hands-on spray tanning training program are extremely sought after in the country's beauty community. In addition to teaching the spray tanning techniques, Simone Emmons supports and helps all her students with valuable business and marketing support. Most importantly, her doors always remain open for her students, even long after the training program is over. Talking about the benefits of her training session with Simone, Jenny says, "I'm feeling good about the way I look and knowing that I am not exposing myself to more sun damage and potentially skin cancer."
Those interested in receiving a customized spray tan in and around Walnut Creek, California can now call Jenny at (925) 451-0645 or visit her website http:// http://www.apressoleiltans.com.
About Hollywood Airbrush Tanning Academy:
Hollywood Airbrush Tanning Academy is located in Los Angeles, California and offers an extensive Spray Tan Certification program to anyone who wishes to learn the art and business of spray tanning. Simone Emmons, the creator of the spray tanning training program, has been a professional, licensed spray tanning technician and teacher and has helped numerous entrepreneurs from Utah, Colorado, Nevada, Minnesota, Arizona, Alabama, South Carolina, North Carolina, Illinois, Indiana, Washington, Oregon, Washington DC, Florida, Oklahoma, Alaska, Ohio, California, Canada and the Island of Hawaii and Trinidad start a business in Airbrush Tanning. The spray tanning program is unique because it provides hands-on and private spray tanning training to individuals who want to start an Airbrush Tanning Business. According to Emmons, this spray tanning program gives individuals a leading edge in starting an Airbrush Tanning business immediately after finishing with the training. Students have the option to choose from a full day course of 10-12 hours or two half day courses of 5-6 hours a day or through live video conferencing. The academy is also launching a website soon so students can learn Airbrush Tanning Online. Many tanning training institutions only educate students on their own equipment and products they sell; however, Hollywood Airbrush Tanning Academy does not sell any of their own products and provides training and education on all equipment and good products in the airbrush tanning industry. Recently, the academy added an additional trainer to hold airbrush tanning classes on the East Coast. Weekly classes are now also available in Charlotte, North Carolina and Lewisburg, West Virginia.
Individuals interested in learning and starting a career in airbrush tanning should visit the website at Hollywood Airbrush Tanning Academy, or for more detailed information about the airbrush tanning classes, visit 1DayAirbrushTanningTraining.com.