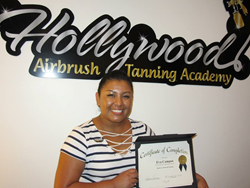 My self confidence has increased since I have proved to myself that I can learn something new and be able to conquer it right away.
Los Angeles, CA (PRWEB) November 13, 2014
Hollywood Airbrush Tanning Academy proudly announces that their student Eva Campos is now the owner of her own independent spray tanning business named Airbrush Spray Tanning by Eva. Founded and owned by acclaimed spray tanning specialist Simone Emmons, this Los Angeles based airbrush tanning training school provides hands on training to aspiring airbrush tanning technicians. Students of this popular training academy also receive all types of support to start their spray tanning business. A high percentage of students from the academy are now established entrepreneurs in this emerging field of business.
Eva Campos is originally from El Salvador, and she shifted to America 14 years ago without any work experience whatsoever. After graduating in Business Administration and Accounting, Eva got a job in a bank. Recently, she got laid off after spending eleven long years in the banking industry, handling sales and management. While looking for a career alternative beyond banking, Eva got interested in airbrush tanning because of its great demand throughout the country including her community.
Eva's new business Airbrush Spray Tanning by Eva is now offering mobile spray tanning services covering the Bay Area including Brentwood, Oakley, Antioch, Pittsburg, Concord, Walnut Creek and some areas of San Francisco, California. Anyone interested in quality sunless tanning in these areas can get in touch with Eva at http://facebook.com/spraytanningbyEva or call her at 925-642-7605.
Talking about her business goal, Eva says, "I would love to open my own shop one day, where people can come and transform their bodies in that beautiful piece of art. I would love to help people gain confidence and have quick result by spray tanning and be ready to go."
Eva feels that her transition to becoming an independent spray tanning business owner was made possible by her training at the Hollywood Airbrush Tanning Academy. Highlighting the benefit she received from her training at the academy, Eva said, "My self confidence has increased since I have proved to myself that I can learn something new and be able to conquer it right away. I love the fact that I can make money while I am having fun and providing a fantastic solution to people that want immediate results."
About Hollywood Airbrush Tanning Academy:
Hollywood Airbrush Tanning Academy is located in Los Angeles, California, and offers an extensive Spray Tanning Certification program to anyone who wishes to learn spray tanning. Simone Emmons, the creator of the spray tanning training program, has been a professional, licensed spray tanning technician and teacher and has helped numerous entrepreneurs from Louisiana, Kentucky, Idaho, Utah, Colorado, Nevada, Minnesota, Texas, Georgia, Arizona, Alabama, South Carolina, North Carolina, Illinois, Indiana, Washington, Oregon, Florida, Oklahoma, Alaska, Ohio, California, New York, New Jersey, Canada and the Islands of Hawaii and Trinidad and Tobago start a business in Airbrush Tanning. The spray tanning program is unique because it provides hands-on and private spray tanning training to individuals who want to start an Airbrush Tanning Business. According to Emmons, this spray tanning program gives individuals a leading edge in starting an Airbrush Tanning business immediately after finishing training. Students have the option to choose from a full day course of 10-12 hours or two half day courses of 5-6 hours a day or through live video conferencing. The academy is also launching a website soon so students can learn Airbrush Tanning Online. Many tanning training institutions only educate students on their own equipment and products they sell; however, Hollywood Airbrush Tanning Academy does not sell any of their own products and provides training and education on all equipment and good products in the airbrush tanning industry.
Individuals interested in learning spray tanning and starting their own Airbrush Tanning Business should visit the website at Hollywood Airbrush Tanning Academy, or for more detailed information about the airbrush tanning classes, visit 1DaySprayTanTraining.com.