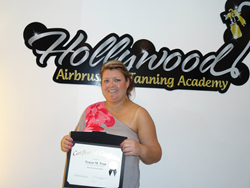 I love the technique and the fact that the feet and hands can be spray tanned.
Los Angeles, CA (PRWEB) May 07, 2014
Hollywood style airbrush tanning is now making its way to Atlanta, Georgia, thanks to the Hollywood Airbrush Tanning Academy. Tracee Tran, the latest graduate from the Southern California based academy has just started her new business Spray Tan 365. This renowned spray tanning training academy has built its own reputation over the last three years as the nation's most sought after destination for anyone willing to master the art and business of spray tanning. Hollywood Airbrush Tanning Academy's popularity can also be attributed to the fact that they help all their students to start their own spray tanning business.
Tracee Tran has been a successful massage therapist for the past 13 years. Interestingly, Tracee's initial impression about airbrush tanning was not at all an encouraging experience because when she went to a local airbrush tanning place to get her first spray tan, her body was tanned but they did not spray her hands and feet so they stayed white. Now, as a professionally trained airbrush tanning technician, Tracee is all set to bring top class sunless tanning services to her town because she will spray people's hands and feet, too.
Airbrush tanning enthusiasts in and around Lawrenceville, Suwannee, Flowery Branch, Duluth, Dacula, Calhoun, Cumming, Gainesville, and Buford, Georgia may contact Tracee at 770-548-0717 for the best spray tanning service in this region. To find out more about her spray tanning services, please visit http://www.spraytan365.com.
Talking about her decision to learn airbrush tanning, Tracee said, "I have been a massage therapist for the past 13 years and it has been hurting me physically. I wanted to continue working with the public though and wanted a business where I could have fun and help people feel good about themselves. I wanted a business that would be fun and easier on my body." Revealing her future goals, Tracee also added, "I want to grow and have people working under me and making money without just myself doing the business. I'd also like to train."
Hollywood Airbrush Tanning Academy was founded by America's leading airbrush tanning expert Simone Emmons. Simone's wealth of experience and knowledge coupled with her exceptional spray tanning techniques makes her a favorite with all her students. Highlighting the biggest benefit of getting trained at the Hollywood Airbrush Tanning Academy, Tracee said, "I love the technique and the fact that the feet and hands can be spray tanned. Living in Georgia, the people here don't spray tan the feet or hands and it makes for not a great looking tan. I also love the spray release technique that Simone showed us. It helps save money and keeps the overspray at a minimum."
About Hollywood Airbrush Tanning Academy:
Hollywood Airbrush Tanning Academy is located in Los Angeles, California and offers an extensive Airbrush Tanning Certification program to anyone who wishes to learn spray tanning. Simone Emmons, the creator of the spray tanning training program, has been a professional, licensed spray tanning technician and teacher and has helped numerous entrepreneurs from Louisiana, Kentucky, Idaho, Utah, Colorado, Nevada, Minnesota, Texas, Georgia, Arizona, Alabama, South Carolina, North Carolina, Illinois, Indiana, Washington, Oregon, Florida, Oklahoma, Alaska, Ohio, California, New York, Canada and the Island of Hawaii and Trinidad start a business in Airbrush Tanning. The spray tanning program is unique because it provides hands-on and private spray tanning training to individuals who want to start an Airbrush Tanning Business. According to Emmons, this spray tanning program gives individuals a leading edge in starting an Airbrush Tanning business immediately after finishing with the training. Students have the option to choose from a full day course of 10-12 hours or two half day courses of 5-6 hours a day or through live video conferencing. The academy is also launching a website soon so students can learn Airbrush Tanning Online. Many tanning training institutions only educate students on their own equipment and products they sell; however, Hollywood Airbrush Tanning Academy does not sell any of their own products and provides training and education on all equipment and good products in the airbrush tanning industry.
Individuals interested in learning spray tanning and starting their own Airbrush Tanning Business should visit the website at Hollywood Airbrush Tanning Academy, or for more detailed information about the airbrush tanning classes, visit 1DaySprayTanTraining.com.