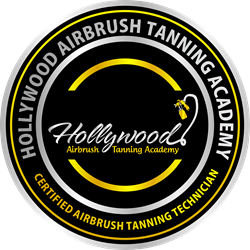 The classes are private and hands-on and each student will spray tan 3-4 models during the training sessions
Los Angeles, CA (PRWEB) July 24, 2013
Hollywood Airbrush Tanning Academy is back again in Union, West Virginia and Charlotte, North Carolina with more spray tanning classes for the aspiring airbrush tanning technicians. This renowned spray tanning training academy is presently in an expansion mode. It may be recalled that the Hollywood Airbrush Tanning Academy made their debut in West Virginia and North Carolina during the month of June. Now, they are all set to conduct additional 2 half day classes in Union, West Virginia and Charlotte, North Carolina on July 27th and 28th and August 3rd and 4th respectively. Each class has already one student and there is only one more spot available for one additional student in each class. The spray tanning classes are private and hands-on and each student will spray tan 3-4 models during the training sessions. The training will be held at the following locations:
Bella Soul Salon and Spa at 285 Main Street, Union, West Virginia 24983
Fairfield Inn Charlotte Northlake, 9230 Harris Corners Parkway, Charlotte, North Carolina 28269
The hands-on airbrush tanning classe s from the Hollywood Airbrush Tanning Academy are extremely sought after amongst people wanting to launch a business in this emerging field. In this training program, the students are also taught the business, marketing and how to match the right formula for different skin tones. The Hollywood Airbrush Tanning Academy has always been extremely quality focused, and their training sessions have limited seats to ensure personalized training experience for students.
The beauty and wellness industry presently prefers airbrush tanning over the traditional sun tanning or tanning beds. Along side its increasing popularity amongst the consumers, airbrush tanning is now a preferred career option for many beauty professionals. The Hollywood Airbrush Tanning Academy is dedicated to helping these professionals make a successful entry in this highly competitive market with unparalleled training support. Simone Emmons, the owner and founder of the academy, is a distinguished spray tanning expert. Simone's experience and knowledge has been the leading factor behind her academy's success story. Talking about the upcoming classes in Union and Charlotte, she says, "Due to limited seats, last time we were not able to accommodate many interested candidates and here is another chance for them to attend our spray tanning certification program."
About Hollywood Airbrush Tanning Academy:
Hollywood Airbrush Tanning Academy is located in Los Angeles, California and offers an extensive Airbrush Tanning Certification program to anyone who wishes to learn the art and business of spray tanning. Simone Emmons, the creator of the spray tanning training program has been a professional, licensed spray tanning technician and teacher and has helped numerous entrepreneurs from Utah, Colorado, Nevada, Minnesota, Arizona, Alabama, South Carolina, North Carolina, Illinois, Indiana, Washington, Oregon, Florida, Oklahoma, Alaska, California, Canada and the Island of Hawaii and Trinidad start a business in Airbrush Tanning. The spray tanning program is unique because it provides hands-on and private spray tanning training to individuals who want to start an Airbrush Tanning Business. According to Emmons, this spray tanning program gives individuals a leading edge in starting an Airbrush Tanning business immediately after finishing with the training. Students have the option to choose from a full day course of 10-12 hours or two half day courses of 5-6 hours a day or through live video conferencing. The academy is also launching a website soon so students can learn Airbrush Tanning Online. Many tanning training institutions only educate students on their own equipment and products they sell, however Hollywood Airbrush Tanning Academy does not sell any of their own products and provides training and education on all equipment and good products in the airbrush tanning industry. Recently, the academy added an additional trainer to hold airbrush tanning classes on the East Coast. Weekly classes are now also available in Charlotte, North Carolina and Lewisburg, West Virginia.
Individuals interested in learning and starting a business in airbrush tanning should visit the website at HollywoodAirbrushTanningAcademy.com or for more detailed information about the airbrush tanning classes, visit 1dayspraytantraining.com