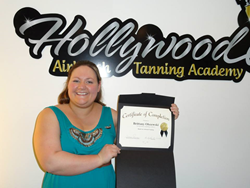 By far the best part of the hands-on training is that it helped me feel more comfortable and confident in my ability
Los Angeles, CA (PRWEB) October 15, 2014
Hollywood Airbrush Tanning Academy's latest student Brittany Olszewski is now a certified spray tanning technician and the proud owner of her own independent spray tanning business. Brittany has traveled to Los Angeles to complete her hands-on spray tanning training program at the Hollywood Airbrush Tanning Academy under the guidance of its founder Simone Emmons. This spray tanning training school is now a highly preferred destination for the aspiring spray tanning technicians throughout the country. Just like Brittany, most of the past students from the Hollywood Airbrush Tanning Academy are now accomplished business owners in this emerging field. Brittany is from Chicago, and her business, named Endless Summer Airbrush Tanning By Brittany Olszewski, is currently serving clients in Rochelle, Oregon, Malta, Creston, Byron, Dixon, Sterling, Polo, and all the surrounding towns in Illinois.
Brittany Olszewski is married with two kids, and she has worked for the same company for ten years. She always wanted a change and to do something for herself. Interestingly, at the early stages, Brittany wanted to learn airbrush tanning just to tan herself for her sister's wedding. Discussing the same, Brittany said, "I couldn't find any place in my area that offered a nice quality tan. This led me to want to learn and provide this service for others in my area." Now, as a spray tanning business owner, Brittany's immediate goal is to help people look and feel good with a custom spray tan and to open a bigger studio in the near future. At present, the range of service offered by Brittany includes tans for weddings, bachelorettes, competitions, girls' nights, vacations, proms, bodybuilders, etc.
Airbrush tanning is an emerging trend in the beauty and tanning industry because it can provide an attractive tan without any exposure to the sun. The spray tan develops quickly within only 6-8 hours and looks just like a natural sun tan. Hollywood Airbrush Tanning Academy has played a significant role in the growth of the sunless tanning industry in America by grooming the future spray tanning experts for the country. Their http//spray tan certification program not only teaches all technical aspects of spray tanning but also provides valuable business and marketing support to the students in starting their own independent spray tanning business.
Like all previous students from the Hollywood Airbrush Tanning Academy, Brittany also feels that her training at the academy has made her more proficient as a spray tanning technician. "By far the best part of the hands-on training is that it helped me feel more comfortable and confident in my ability. I also feel that Simone is just a great teacher and mentor to have, she truly gives you the knowledge and confidence you need to make your business take off. She answers questions, gives you ideas to think about for your own business, and background on her past experiences. This truly is a great place to learn Airbrush Tanning," she said.
For premium quality airbrush tanning service in and around Chicago, contact Brittany at 815-441-8242 or leave a service request at http://www.endlesssummerairbrushtanning.com.
About Hollywood Airbrush Tanning Academy:
Hollywood Airbrush Tanning Academy is located in Los Angeles, California, and offers an extensive Spray Tanning Certification program to anyone who wishes to learn spray tanning. Simone Emmons, the creator of the spray tanning training program, has been a professional, licensed spray tanning technician and teacher and has helped numerous entrepreneurs from Louisiana, Kentucky, Idaho, Utah, Colorado, Nevada, Minnesota, Texas, Georgia, Arizona, Alabama, South Carolina, North Carolina, Illinois, Indiana, Washington, Oregon, Florida, Oklahoma, Alaska, Ohio, California, New York, New Jersey, Canada and the Island of Hawaii and Trinidad start a business in Airbrush Tanning. The spray tanning program is unique because it provides hands-on and private spray tanning training to individuals who want to start an Airbrush Tanning Business. According to Emmons, this spray tanning program gives individuals a leading edge in starting an Airbrush Tanning business immediately after finishing with the training. Students have the option to choose from a full day course of 10-12 hours or two half day courses of 5-6 hours a day or through live video conferencing. The academy is also launching a website soon so students can learn Airbrush Tanning Online. Many tanning training institutions only educate students on their own equipment and products they sell; however, Hollywood Airbrush Tanning Academy does not sell any of their own products and provides training and education on all equipment and good products in the airbrush tanning industry.
Individuals interested in learning spray tanning and starting their own Airbrush Tanning Business should visit the website at Hollywood Airbrush Tanning Academy, or for more detailed information about the airbrush tanning classes, visit 1DaySprayTanTraining.com.