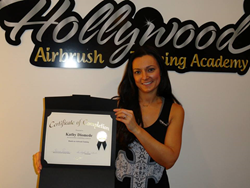 The inside tips and information as to where to purchase equipment along with an overview of solutions to use was so very valuable and saved many hours of researching.
Los Angeles, CA (PRWEB) March 04, 2014
Hollywood Airbrush Tanning Academy has announced the successful airbrush tanning certification of their latest student Kathy Diomede. This renowned training academy is highly recommended for their hands-on airbrush tanning program. Owned and managed by America's top spray tanning expert Simone Emmons, the Hollywood Airbrush Tanning Academy has been playing a commendable role in popularizing sunless tanning throughout the United States and beyond. Most of the students of this academy are now running their own spray tanning business in different parts of the nation. Following their footsteps, Kathy Diomede has also launched her own independent airbrush tanning business named Body Bronze Airbrush Tanning in Chicago, Illinois.
It is important to mention here that the Hollywood Airbrush Tanning Academy has helped many professionals from completely unrelated fields to make a new beginning in this field as spray tanning professionals. Kathy Diomede has been an elementary education teacher and certified school counselor for seven years. Since the last five years, she has been at home raising her two young boys. Over the years, Kathy has been an airbrush tanning enthusiast, and she feels that the options are rather limited in the Chicago land area. "As a client myself of airbrush tanning, my options were limited to tanning in spray booths or with technicians lacking state-of-the-art equipment and knowledge of the best solutions and techniques. I always left dissatisfied as I was streaky and orange. Not to mention customizing the tan for the client's skin type and preference was never even an option with any of these methods available", she says.
Now, as a mobile airbrush tanning business owner, Kathy looks forward to offering top class, Hollywood style spray tanning services and eventually build her own airbrush tanning salon.
People looking for premium quality spray tans in Antioch, Grayslake, Gurnee, Lake Villa, and Vernon Hills area may contact Kathy online through her website at http://www.BodyBronzeAirbrushTan.com or call her at 847-650-1443.
Like many of the past students from the Hollywood Airbrush Tanning Academy, Kathy has also expressed her deep gratitude towards the academy and its training procedure. Kathy also thanked Simone Emmons for her useful guidelines and strongly recommending Hollywood Airbrush Tanning Academy for all aspiring airbrush tanning professionals. Kathy said, "The training at the Hollywood Airbrush Academy was great because it provided that hands-on one-on-one experience. As a teacher myself I value this greatly as instructing and training can really be differentiated for the student's needs. Having the trainer Simone on hand to guide us in developing this flawless technique is very valuable, something you're not able to get from just watching a video. Also, the inside tips and information as to where to purchase equipment along with an overview of solutions to use was so very valuable and saved many hours of researching."
About Hollywood Airbrush Tanning Academy:
Hollywood Airbrush Tanning Academy is located in Los Angeles, California and offers an extensive Airbrush Tanning Certification program to anyone who wishes to learn spray tanning. Simone Emmons, the creator of the spray tanning training program, has been a professional, licensed spray tanning technician and teacher and has helped numerous entrepreneurs from Louisiana, Utah, Colorado, Nevada, Minnesota, Texas, Georgia, Arizona, Alabama, South Carolina, North Carolina, Illinois, Indiana, Washington, Oregon, Florida, Oklahoma, Alaska, Ohio, California, Canada and the Island of Hawaii and Trinidad start a business in Airbrush Tanning. The spray tanning program is unique because it provides hands-on and private spray tanning training to individuals who want to start an Airbrush Tanning Business. According to Emmons, this spray tanning program gives individuals a leading edge in starting an Airbrush Tanning business immediately after finishing with the training. Students have the option to choose from a full day course of 10-12 hours or two half day courses of 5-6 hours a day or through live video conferencing. The academy is also launching a website soon so students can learn Airbrush Tanning Online. Many tanning training institutions only educate students on their own equipment and products they sell; however, Hollywood Airbrush Tanning Academy does not sell any of their own products and provides training and education on all equipment and good products in the airbrush tanning industry.
Individuals interested in learning and starting their own Airbrush Tanning Business should visit the website at Hollywood Airbrush Tanning Academy, or for more detailed information about the airbrush tanning classes, visit 1DaySprayTanTraining.com.