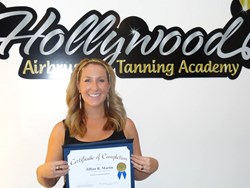 Simone doesn't try to sell her students on any specific product or equipment but teaches us about what's out there and lets us decide what we think is best for our business and our clients".
Los Angeles, CA (PRWEB) January 25, 2014
America's favorite hands-on training center for aspiring airbrush tanning professionals Hollywood Airbrush Tanning Academy has just announced the successful certification of their student Jillian Martin, the first student from the state of Ohio. This Southern California based academy is highly acclaimed for their hands on spray tanning certification program. The academy's awe inspiring success can be attributed to its owner and founder Simone Emmons. In addition to mastering the art of sunless spray tanning techniques, Simone's students also receive all types of business support to launch their independent airbrush tanning business. Since its inception, the academy has already trained over one hundred students from all parts of America including Canada, Trinidad and Kuwait. Like many previous students from the Hollywood Airbrush Tanning Academy, Jillian Martin has also started her own business named "Airbrush Tanning by Jillian".
Prior to coming to the Hollywood Airbrush Tanning Academy for her spray tan training, Jillian has been a cosmetologist for 10 years and full time mom. Jillian is fair skinned and loved the sun. She spent her teenage days and the early 20s sunbathing and napping in tanning beds. Now she regrets that because unusual looking moles and sunspots were found on her skin when she was twenty six. She is still under the process of having them removed because all of them were cancerous. Now, as a spray tan business owner, Jillian wants to be a part of spreading awareness about the dangers of sun bathing and tanning beds but still letting people have their tan. When asked about her feelings about her profession, Jillian says, "This business keeps me in the beauty industry, which I love! It also allows me to be my own boss and doesn't demand unreasonable time away from my kids (unless I allow it). Can't get much better than that."
Tanning enthusiasts in the lookout for Hollywood style airbrush tanning in the greater Cleveland area of Ohio may contact Jillian at 216.644.7659 or find her at http://www.facebook.com/abtbyjillian.
Jillian feels that her venture to become a spray tan technician was made easy by the Hollywood Airbrush Tanning Academy. She has special words of appreciation for Simone and her training techniques. "Simone was a wonderful instructor. She teaches her students her own custom designed spray tanning technique that leaves every tan looking flawless. This lets us stand out from other technicians. We are also trained on safety precautions." Jillian said. She also mentioned " Simone doesn't try to sell her students on any specific product or equipment but teaches us about what's out there and lets us decide what we think is best for our business and our clients".
About Hollywood Airbrush Tanning Academy:
Hollywood Airbrush Tanning Academy is located in Los Angeles, California and offers an extensive Airbrush Tanning Certification program to anyone who wishes to learn spray tanning. Simone Emmons, the creator of the spray tanning training program, has been a professional, licensed spray tanning technician and teacher and has helped numerous entrepreneurs from Louisiana, Utah, Colorado, Nevada, Minnesota, Texas, Georgia, Arizona, Alabama, South Carolina, North Carolina, Illinois, Indiana, Washington, Oregon, Florida, Oklahoma, Alaska, Ohio, California, Canada and the Island of Hawaii and Trinidad start a business in Airbrush Tanning. The spray tanning program is unique because it provides hands-on and private spray tanning training to individuals who want to start an Airbrush Tanning Business. According to Emmons, this spray tanning program gives individuals a leading edge in starting an Airbrush Tanning business immediately after finishing with the training. Students have the option to choose from a full day course of 10-12 hours or two half day courses of 5-6 hours a day or through live video conferencing. The academy is also launching a website soon so students can learn Airbrush Tanning Online. Many tanning training institutions only educate students on their own equipment and products they sell; however, Hollywood Airbrush Tanning Academy does not sell any of their own products and provides training and education on all equipment and good products in the airbrush tanning industry.
Individuals interested in learning and starting their own Airbrush Tanning Business should visit the website at Hollywood Airbrush Tanning Academy, or for more detailed information about the airbrush tanning classes, visit 1DaySprayTanTraining.com.