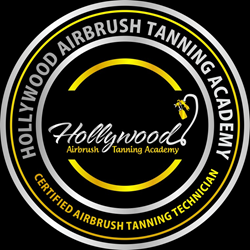 Airbrush tanning is one of the most requested beauty treatments available where no Cosmetology License is required (except for the state of Oregon)
Los Angeles, CA (PRWEB) December 18, 2014
America's leading training school for spray tanning, Hollywood Airbrush Tanning Academy is recommending a useful gift option for this holiday season. The hands-on training course from the academy has already proven to be very rewarding for many of their previous students. This highly sought after airbrush tanning course is certainly an innovative gift idea that can help anyone make more money because airbrush tanning beauty treatments are in high demand all over the world. It's a growing field and compared to other beauty trades, the airbrush tanning industry does not have many trained airbrush tanning professionals available to provide this beauty treatment.
America's job market continues to be a concern for many job seekers throughout the country. In this scenario, more and more individuals are now looking to start their own independent business. However, high initial investment can be a serious constraint when starting a new business. Airbrush tanning is a great alternative because starting this business does not require a huge investment.
Talking about the reasons behind the emerging popularity of airbrush tanning as a start-up business alternative, the founder of the Hollywood Airbrush Tanning Academy Simone Emmons says, "It's one of the most affordable businesses to get in to since there is not much overhead and people usually start this business mobile so they don't have to pay any rent to someone and keep all the profit. Affordable equipment cost for Mobile spray tanners ranges from $400 to $550 so this is even much cheaper than many multi-level marketing businesses. In addition, airbrush tanning is one of the most requested beauty treatments available where no Cosmetology License is required (except for the state of Oregon)."
In the comprehensive hands-on airbrush tanning training course conducted by the Hollywood Airbrush Tanning Academy, the students are taught the different aspects of sunless tanning with the presence of live models. More importantly, they also receive marketing and promotional support to start their own airbrush tanning business.
Hollywood Airbrush Tanning Academy is now offering a pre-purchased training package for the holiday season. To find out more details of what is included in the airbrush tanning course please visit http://1dayspraytantraining.com/sign-up-now-for-spray-tan-training
About Hollywood Airbrush Tanning Academy:
Hollywood Airbrush Tanning Academy is located in Los Angeles, California and offers an extensive Airbrush Tanning Certification program to anyone who wishes to learn how to spray tan. Simone Emmons, the creator of the spray tanning training program, has been a professional, licensed spray tanning technician and teacher and has helped numerous entrepreneurs from Louisiana, Utah, Colorado, Nevada, Minnesota, Texas, Georgia, Arizona, Alabama, South Carolina, North Carolina, Illinois, Indiana, Washington, Oregon, Florida, Oklahoma, Alaska, Ohio, California, Canada and the Island of Hawaii and Trinidad start a business in Airbrush Tanning. The spray tanning program is unique because it provides hands-on and private spray tanning training to individuals who want to start an Airbrush Tanning Business. According to Emmons, this spray tanning program gives individuals a leading edge in starting an Airbrush Tanning business immediately after finishing with the training. Students have the option to choose from a full day course of 10-12 hours or two half day courses of 5-6 hours a day or through live video conferencing. The academy is also launching a website soon so students can learn Airbrush Tanning Online. Many tanning training institutions only educate students on their own equipment and products they sell; however, Hollywood Airbrush Tanning Academy does not sell any of their own products and provides training and education on all equipment and good products in the airbrush tanning industry.
Individuals interested in learning and becoming certified in airbrush tanning should visit the website at Hollywood Airbrush Tanning Academy, or for more detailed information about the airbrush tanning classes, visit 1DaySprayTanTraining.com.