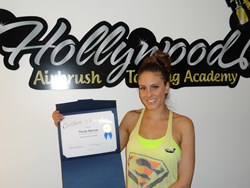 Hollywood Airbrush Tanning Academy is highly acclaimed for their hands-on spray tanning training programs that are tailored to suit the requirements of an aspiring business owner.
Los Angeles, CA (PRWEB) January 16, 2014
Hollywood Airbrush Tanning Academy continues to live up to their reputation in America's health and wellness industry. Yet another student from the Southern California based academy has recently become an independent spray tanning entrepreneur in the rapidly expanding field of airbrush tanning. Hollywood Airbrush Tanning Academy is highly acclaimed for their hands-on spray tanning training programs that are tailored to suit the requirements of an aspiring business owner in this field. The academy's owner, founder, and head instructor Simone Emmons is one of America's most respected spray tanning expert. Simone's latest student Nicole Barton is now the proud owner of her own airbrush tanning business Nikki Bee Airbrush Tanning.
Nikki Bee started working at a Hair Salon and Spa in Los Gatos, California at the age of 16. She is currently working as a cocktail server at Marquee Las Vegas, which has been rated the number 1 club in the world. Being a part of this industry, Nicole always wanted to look good and help others look good, too. "Working in the industry made me realize your look is everything. And one day I will no longer be able to work in the industry because everyone grows apart from it at some point. Having a tan is what always makes me feel good so I thought why not learn how to apply a natural looking spray tan that everyone wants and still cater to the industry," she says.
Airbrush tanning enthusiasts in Las Vegas, Nevada can call Nicole at (702) 250-9921 or send a service request via http://www.Nikkibeeairbrushtanning.com to receive top class sunless tanning services.
Now, as an established beauty and wellness professional, Nicole is extremely ambitious about the future of her business. Revealing her goal, Nicole said, "I would love to have my own Nikki Bee Airbrush Tanning Spa & Boutique. A one stop shop is what everyone is looking for. A place to get your hair, nails and tan done at the same place." Nicole also thanks her mentor Simone Emmons for her unique spray tanning technique that has built so many careers in this emerging field. Thanking Simone for her support, Nicole says, "I absolutely loved learning her own techniques and tricks. Not only is she patient with you, but she's always there if you need her. I'm so happy I found her. Thank you for such a wonderful opportunity."
About Hollywood Airbrush Tanning Academy:
Hollywood Airbrush Tanning Academy is located in Los Angeles, California and offers an extensive Airbrush Tanning Certification program to anyone who wishes to learn spray tanning. Simone Emmons, the creator of the spray tanning training program, has been a professional, licensed spray tanning technician and teacher and has helped numerous entrepreneurs from Louisiana, Utah, Colorado, Nevada, Minnesota, Texas, Georgia, Arizona, Alabama, South Carolina, North Carolina, Illinois, Indiana, Washington, Oregon, Florida, Oklahoma, Alaska, Ohio, California, Canada and the Island of Hawaii and Trinidad start a business in Airbrush Tanning. The spray tanning program is unique because it provides hands-on and private spray tanning training to individuals who want to start an Airbrush Tanning Business. According to Emmons, this spray tanning program gives individuals a leading edge in starting an Airbrush Tanning business immediately after finishing with the training. Students have the option to choose from a full day course of 10-12 hours or two half day courses of 5-6 hours a day or through live video conferencing. The academy is also launching a website soon so students can learn Airbrush Tanning Online. Many tanning training institutions only educate students on their own equipment and products they sell; however, Hollywood Airbrush Tanning Academy does not sell any of their own products and provides training and education on all equipment and good products in the airbrush tanning industry.
Individuals interested in learning and starting their own Airbrush Tanning Business should visit the website at Hollywood Airbrush Tanning Academy, or for more detailed information about the airbrush tanning classes, visit 1DaySprayTanTraining.com.