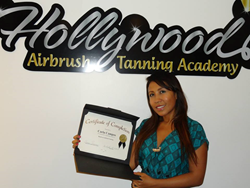 Thanks to Simone's spray tanning technique, routine and marketing ideas I feel more confident to start my airbrush tanning business right away.
Los Angeles, CA (PRWEB) May 20, 2014
Hollywood Airbrush Tanning Academy has just announced the certification of their student Carla Campos from Manhattan Beach/Redondo Beach, California. This training academy has made a name in America's beauty and wellness industry with their popular hands-on training program on spray tanning. Hollywood Airbrush Tanning Academy has the rare distinction of helping all their students build a stable career in this emerging field with their career focused training facilities. Simone Emmons, a highly respected sunless tanning expert, is the owner, founder, and chief instructor at the Hollywood Airbrush Tanning Academy.
An increase in awareness about the adverse health impact of traditional tanning has now made airbrush tanning a viable alternative for tanning enthusiasts around the world. As a result, many beauty and wellness related businesses are now looking to offer spray tanning services to increase their clientele. This is exactly what Hollywood Airbrush Tanning Academy's recent student Carla Campos was looking to accomplish while deciding to learn the techniques of spray tanning. Interestingly, Carla started her career and worked for ten years as a Spanish Translator/Interpreter. Talking about her decision to become an airbrush tanning technician, she said, "I took this decision because I wanted to add more services to my business and also because I love tanning."
Carla's business Tropical Breeze Studio has now started offering premium quality spray tanning services covering Manhattan Beach, Hermosa Beach, Redondo Beach, Palos Verdes, Playa del Rey, Marina del Rey, Venice Beach, and Santa Monica. With the addition of airbrush tanning, Carla is extremely optimistic about the future prospects of her business. "I would like to have my Tropical Breeze Studio in different cities," she says.
Like all previous students from the Hollywood Airbrush Tanning Academy, Carla has also expressed her gratitude towards Simone and her unique training program. Thanking Simone for all the support, Carla said, "Thanks to Simone's spray tanning technique, routine and marketing ideas I feel more confident to start my airbrush tanning business right away. Also love how passionate she is about this business and all the effort she puts to make sure that students acquire all the necessary knowledge to start this exciting venture."
Sunless tanning enthusiasts in and around Manhattan Beach/Redondo Beach may contact Carla at 323-799-6399 to receive Hollywood style sunless tanning services. To know more about Carla and her growing business, please visit http://www.tropicalbreezestudio.com.
About Hollywood Airbrush Tanning Academy:
Hollywood Airbrush Tanning Academy is located in Los Angeles, California and offers an extensive Spray Tanning Certification program to anyone who wishes to learn spray tanning. Simone Emmons, the creator of the spray tanning training program, has been a professional, licensed spray tanning technician and teacher and has helped numerous entrepreneurs from Louisiana, Kentucky, Utah, Colorado, Nevada, Minnesota, Texas, Georgia, Arizona, Alabama, South Carolina, North Carolina, Illinois, Indiana, Washington, Oregon, Florida, Oklahoma, Alaska, Ohio, California, New York, Canada and the Island of Hawaii and Trinidad start a business in Airbrush Tanning. The spray tanning program is unique because it provides hands-on and private spray tanning training to individuals who want to start an Airbrush Tanning Business. According to Emmons, this spray tanning program gives individuals a leading edge in starting an Airbrush Tanning business immediately after finishing with the training. Students have the option to choose from a full day course of 10-12 hours or two half day courses of 5-6 hours a day or through live video conferencing. The academy is also launching a website soon so students can learn Airbrush Tanning Online. Many tanning training institutions only educate students on their own equipment and products they sell; however, Hollywood Airbrush Tanning Academy does not sell any of their own products and provides training and education on all equipment and good products in the airbrush tanning industry.
Individuals interested in learning spray tanning and starting their own Airbrush Tanning Business should visit the website at Hollywood Airbrush Tanning Academy, or for more detailed information about the airbrush tanning classes, visit 1DaySprayTanTraining.com.