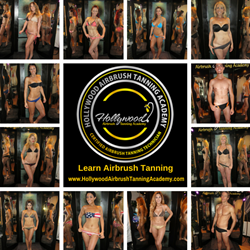 Since most states do not require a cosmetology license to do airbrush tanning, it's very easy for anyone to learn and get into this trade
Los Angeles, CA (PRWEB) May 05, 2015
For several years now, many states have already banned teens from using tanning beds. Recently, for the second time in a little over two years, the North Carolina state House has overwhelmingly approved a proposal to ban minors from using indoor tanning beds.
North Carolina lawmakers expressed concern about youths using tanning beds, voting 103-12 in the House to change state law and prohibit anyone under 18 from using indoor tanning beds. The introduction of the tanning bed legislation comes on the heels of the U. S. Surgeon General's national "Call to Action" on skin cancer last year.
With this law in motion, it means a possible decrease of business for tanning salon owners but it could also be the rise of a lucrative airbrush tanning business. Tanning salons should learn airbrush tanning as this is another opportunity for salon owners to think ahead and prepare so that they can offer a healthier alternative to teens and spray tan them instead of offering tanning beds. Airbrush tanning is a popular beauty service that tanning salons can just add on but they should seek out professional training so as not to turn people orange and give clients a good experience with fake tanning. Since most states do not require a cosmetology license to do airbrush tanning, it's very easy for anyone to learn and get into this trade.
Hollywood Airbrush Tanning Academy, the leading online and hands-on airbrush tanning training school, has been providing professional training since 2011. The academy is accepting new students for hands-on and online airbrush tanning training for the month of May 2015. North Carolina residents can learn hands-on by visiting the academy in Los Angeles or they can also learn online through video conference training.
The Southern California based Hollywood Airbrush Tanning Academy is a highly trusted training destination to learn the art and business of airbrush tanning. As the country's leading hands-on spray tanning training school, Hollywood Airbrush Tanning Academy has produced over 250 airbrush tanning specialists who are doing well in the industry today. The academy offers continued support and guidance to each trainee until they are well placed in this booming industry. Many of the academy's former students are now successfully running their own airbrush tanning business.
Carla Hendrickson, one of the academy's successful students from North Dakota stated, "I love the fact that when people message me to book tans lately they always say, 'I heard you were the best' and it makes me very happy to know that the school I chose was very well worth it. I just have to give a shout out to Simone Emmons for my education on spray tanning because without her knowledge and hands on training, I simply could not be the best. Simone is a great mentor, she is always updating her students and is always there for any questions we may have. She is always doing more and more for her students like making each student a press release and always adding new videos on questions we have and has always been there for me whenever I had a question or wasn't sure about something."
This is a good business opportunity for anyone else in North Carolina to offer airbrush tanning to teens. The Hollywood Airbrush Tanning Academy also offers online video conference training for students who cannot fly to Los Angeles. The training includes private coaching sessions, an online video course, in addition to the hands-on course and an additional graduate course to help students in marketing and position themselve online.
About Hollywood Airbrush Tanning Academy:
The Hollywood Airbrush Tanning Academy is located in Los Angeles, California and offers an extensive Spray Tanning Certification program to anyone who wishes to learn spray tanning. Simone Emmons, the creator of the spray tanning training program, has been a professional, licensed spray tanning technician and teacher and has helped numerous entrepreneurs from Louisiana, Utah, Colorado, Nevada, Minnesota, Texas, Georgia, Arizona, Alabama, South Carolina, North Carolina, Illinois, Indiana, Washington, Oregon, Florida, Oklahoma, Alaska, Ohio, California, Canada and the Island of Hawaii and Trinidad start a business in Airbrush Tanning. The spray tanning program is unique because it provides hands-on and private spray tanning training to individuals who want to start an Airbrush Tanning Business. According to Emmons, this spray tanning program gives individuals a leading edge in starting an Airbrush Tanning business immediately after finishing with the training. Students have the option to choose from a full day course of 10-12 hours or two half day courses of 5-6 hours a day or through live video conferencing. The academy is also launching a website soon so students can learn Airbrush Tanning Online. Many tanning training institutions only educate students on their own equipment and products they sell; however, Hollywood Airbrush Tanning Academy does not sell any of their own products and provides training and education on all equipment and good products in the airbrush tanning industry.
Individuals interested in learning and starting their own Airbrush Tanning Business should visit the website at Hollywood Airbrush Tanning Academy, or for more detailed information about the airbrush tanning classes, visit 1DaySprayTanTraining.com.