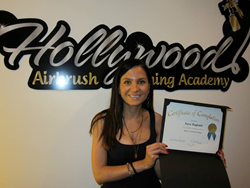 Los Angeles, CA (PRWEB) June 12, 2015
Acclaimed spray tanning training school Hollywood Airbrush Tanning Academy is pleased to announce the certification of their student Inese Ragland. This training school has already marked a niche in America's beauty and wellness community with their highly appreciated hands-on and online airbrush tanning certification programs. The airbrush tanning training program is designed to help students start and manage their own airbrush tanning businesses successfully. Simone Emmons, a renowned spray tanning expert in Los Angeles and proponent of sunless tanning, is the owner and founder of the Hollywood Airbrush Tanning Academy.
The latest certified spray tan technician from the Hollywood Airbrush Tanning Academy Inese Ragland is originally from Detroit, but has settled down in Los Angeles to run her own independent business Finesse Beauty LA. Inese is a makeup artist and licensed aesthetician with seventeen years of experience in the beauty industry. She is also a certified expert in numerous skincare and makeup lines.
Talking about the reasons behind her interest in airbrush tanning, Inese says, "As an aesthetician, I have learned how much damage sun or tanning beds can cause to your skin over time. At the end of it, the real tan is just not worth it. But I know that most people, myself included, would love to have a tan or a healthy glow as they call it and by learning how to do Airbrush Tanning, I can offer my clients this great, healthy and safe option."
After the completion of her airbrush tanning certification program, Inese is now ready to start offering mobile airbrush tanning services through Finesse Beauty LA. Her spray tanning service is currently available in Santa Monica, Brentwood, Pacific Palisades, and Malibu. Inese can be reached for all types of service inquiries through her website at http://www.finessebeautyla.com or her phone number 310-866-2521.
Airbrush tanning or sunless tanning has emerged over the years as the healthier alternative to the traditional concept of tanning beds. The founder of the Hollywood Airbrush Tanning Academy Simone Emmons is one of the earliest experts in America to master this art. Since then, Simone has been instrumental in helping aspiring spray tanning technicians across America by sharing her knowledge and skill.
Like all past students from the academy, Inese also feels that her training with the Hollywood Airbrush Tanning was extremely useful. "The most important benefit was that I learned about different techniques, products and proper tanning safety," she says.
Individuals interested in learning spray tanning and starting their own Airbrush Tanning Business should visit the website at Hollywood Airbrush Tanning Academy, or for more detailed information about the airbrush tanning classes, visit 1DaySprayTanTraining.com.
About Hollywood Airbrush Tanning Academy:
Hollywood Airbrush Tanning Academy is located in Los Angeles, California, and offers an extensive Spray Tanning Certification program to anyone who wishes to learn spray tanning. Simone Emmons, the creator of the spray tanning training program, has been a professional, licensed spray tanning technician and teacher and has helped numerous entrepreneurs from Louisiana, Kentucky, Idaho, Utah, Colorado, Nevada, Minnesota, Mississippi, Texas, Georgia, Arizona, Alabama, South Carolina, North Carolina, South Dakota, North Dakota, Illinois, Indiana, Washington, Oregon, Florida, Oklahoma, Alaska, Ohio, California, New York, New Jersey, Canada and the Islands of Hawaii and Trinidad start a business in Airbrush Tanning. The spray tanning program is unique because it provides hands-on and private spray tanning training to individuals who want to start an Airbrush Tanning Business. According to Emmons, this spray tanning program gives individuals a leading edge in starting an Airbrush Tanning business immediately after finishing training. Students have the option to choose from a full day course of 10-12 hours or two half day courses of 5-6 hours a day or through live video conferencing. The academy has also launched a website so students can learn Airbrush Tanning Online. Many tanning training institutions only educate students on their own equipment and products they sell; however, Hollywood Airbrush Tanning Academy does not sell any of their own products and provides training and education on all equipment and good products in the airbrush tanning industry.