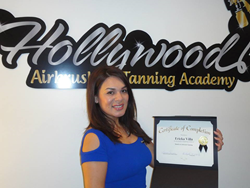 Ericka feels that the training received at the Hollywood Airbrush Tanning Academy will prove vital in her professional career as a spray tanning technician.
Los Angeles, CA (PRWEB) March 12, 2014
Hollywood Airbrush Tanning Academy's recent trainee Ericka Villa is excited to announce the official launch of her own sunless tanning business Sun Tickled Mobile Spray Tan. An office worker and Bachelor's degree student, Ericka is presently offering world class mobile airbrush tanning services in Santa Maria, Orcutt and Nipomo, California. Hollywood Airbrush Tanning Academy is a highly rated training center famous for its extraordinary spray tanning certification program. The founder and chief instructor of the academy Simone Emmons has a high profile career as a professional spray tanning expert in Los Angeles, California, and she is dedicated to helping people learn the art and business of sunless tanning. Simone's mentorship has helped many of her students make a mark in the emerging market for airbrush tanning. In the training, students learn about the different spray tanning machines and spray tanning solutions available on the market in addition to how to market themselves to get clients.
In addition to being a student at nights, Ericka has also been working in an office since last ten years, performing various managerial and accounting tasks. Ericka decided to learn spray tanning because she personally loves to tan and wants to look and feel great for longer. "Now that I am approaching my thirties I'm pumping the breaks on everything that can speed up the process of aging or that can potentially have repercussions on my health", she says. She also feels that her new business is a great alternative to remain safe from the aftermath of the recent economic crisis. "Higher educations has taught me to think outside the box to find answers and solutions in all aspects of life, and my new little business is my knowledge manifestation working out my post-graduation solution", Ericka continued.
Spray tanning enthusiasts in Santa Maria, Orcutt and Nipomo, California area can now receive Ericka's top quality spray tanning services by calling her at (805) 863-7350 or visiting her website at SunTickledSprayTan.com.
Ericka also offers custom spray tanning services for wedding parties, bachelorette events, and photo shoots. Emergency spray tanning service is also available. As a spray tanning professional, Ericka looks forward to being able to share her spray tanning services to help others make better decisions regarding their appearance and health.
Ericka feels that the training received at the Hollywood Airbrush Tanning Academy will prove vital in her professional career as a spray tanning technician. Talking about the greatest benefits of her training, she said, "I like to know what I'm talking about and I wouldn't offer any product without knowing how it works and how to apply it. Hollywood Airbrush Academy provided all the information I need to deliver my services."
About Hollywood Airbrush Tanning Academy:
Hollywood Airbrush Tanning Academy is located in Los Angeles, California and offers an extensive Airbrush Tanning Certification program to anyone who wishes to learn spray tanning. Simone Emmons, the creator of the spray tanning training program, has been a professional, licensed spray tanning technician and teacher and has helped numerous entrepreneurs from Louisiana, Utah, Colorado, Nevada, Minnesota, Texas, Georgia, Arizona, Alabama, South Carolina, North Carolina, Illinois, Indiana, Washington, Oregon, Florida, Oklahoma, Alaska, Ohio, California, Canada and the Island of Hawaii and Trinidad start a business in Airbrush Tanning. The spray tanning program is unique because it provides hands-on and private spray tanning training to individuals who want to start an Airbrush Tanning Business. According to Emmons, this spray tanning program gives individuals a leading edge in starting an Airbrush Tanning business immediately after finishing with the training. Students have the option to choose from a full day course of 10-12 hours or two half day courses of 5-6 hours a day or through live video conferencing. The academy is also launching a website soon so students can learn Airbrush Tanning Online. Many tanning training institutions only educate students on their own equipment and products they sell; however, Hollywood Airbrush Tanning Academy does not sell any of their own products and provides training and education on all equipment and good products in the airbrush tanning industry.
Individuals interested in learning and starting their own Airbrush Tanning Business should visit the website at Hollywood Airbrush Tanning Academy, or for more detailed information about the airbrush tanning classes, visit 1DaySprayTanTraining.com.