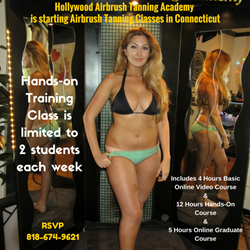 The academy has an enviable track record of helping hundreds of students launch and manage their own independent spray tanning business
Los Angeles, CA (PRWEB) August 12, 2015
Hollywood Airbrush Tanning Academy is now pleased to introduce hands-on airbrush tanning classes in the Connecticut area. This training location was added so people from the East Coast would have an easier opportunity to learn the advanced spray tanning technique of the Hollywood Airbrush Tanning Academy. The academy will now offer hands-on airbrush tanning classes in California and Connecticut in addition to the online video spray tanning training. The Hollywood Airbrush Tanning Academy is rated highly for their business oriented hands-on and online airbrush tanning courses. The academy has an enviable track record of helping hundreds of students launch and manage their own independent spray tanning business. The upcoming weekly classes in Connecticut will be conducted by the Hollywood Airbrush Tanning Academy's former student and staff trainer Tammy Becker.
Students who have enrolled for the hands-on airbrush tanning training program would be required to complete a 4-hour basic online video course prior to attending the hands-on training. This online course is intended to make them well acquainted with the basic concept of airbrush tanning and prepare them for the hands-on training. After the completion of the hands-on training course, the students will have the opportunity to spray tan three to four models under the guidance and supervision of the trainer. All these students will also have access to the academy's Graduate course that includes reminder videos on the spray tanning technique, forms for the clients, and many advanced marketing tips.
Hollywood Airbrush Tanning Academy will continue to offer their popular one-day training sessions in addition to the two half-day sessions. However, the academy's chief instructor and founder Simone Emmons recommends two half-day classes for more effective learning. "Over the years, the course has expanded and more study material has been added and it can be overwhelming to learn in a day. This is why I feel it is a smarter choice to opt for two half-day classes" Simone says.
Airbrush tanning has now emerged throughout the world as the more preferred way of tanning without getting exposed to the harmful UV rays. Hollywood Airbrush Tanning Academy has played a stellar role in the expansion of spray tanning businesses in America by training the aspiring beauty and wellness professionals. Many institutions have now started offering airbrush training classes following the structure created long ago by the Hollywood Airbrush Tanning Academy. However, none of them have been able to emulate the track record of the Southern California based academy. As of this date, the academy has already trained 300 spray tanning entrepreneurs coming from all over the world including South Korea, Kuwait, Canada, Island of Trinadad and Marocco.
To enroll for the Hollywood Airbrush Tanning Academy's upcoming airbrush tanning classes in Connecticut, please call 818-674-9621 or visit http://www.HollywoodAirbrushTanningAcademy.com.
About Hollywood Airbrush Tanning Academy:
Hollywood Airbrush Tanning Academy is located in Los Angeles, California, and offers an extensive Airbrush Tanning Certification program to anyone who wishes to learn airbrush tanning. Simone Emmons, the creator of the airbrush tanning training program, has been a professional spray tanning technician and teacher and has helped many entrepreneurs from Louisiana, Kentucky, Idaho, Utah, Colorado, Nevada, Minnesota, Texas, Georgia, Arizona, Alabama, South Carolina, North Carolina, Illinois, Indiana, Washington, Oregon, Florida, Oklahoma, Alaska, Ohio, California, New York, New Jersey, Canada and the Islands of Hawaii and Trinidad and Tobago start a business in Airbrush Tanning. The airbrush tanning program is unique because it provides hands-on and private airbrush tanning training to individuals who want to start an Airbrush Tanning Business. According to Emmons, this spray tanning program gives individuals a leading edge in starting an Airbrush Tanning business immediately after finishing training. Students have the option to choose from a full day course of 10-12 hours or two half day courses of 5-6 hours a day or through live video conferencing. The academy has also launched a website so students can learn Airbrush Tanning Online. Many tanning training institutions only educate students on their own equipment and products they sell; however, Hollywood Airbrush Tanning Academy does not sell any of their own products and provides training and education on all equipment and good products in the airbrush tanning industry.
Individuals interested in learning airbrush tanning and starting their own Airbrush Tanning Business should visit the website at Hollywood Airbrush Tanning Academy, or for more detailed information about the airbrush tanning classes, visit 1DaySprayTanTraining.com.