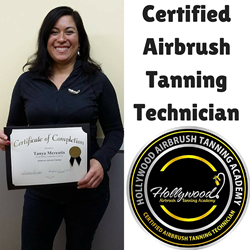 I learned how to prevent clients from getting orange and give them an even tan. I was also trained on the types of solution and machine that is good for you. I would never have known this if it wasn't for this course
Los Angeles, CA (PRWEB) March 18, 2016
Tanya Merentis is now ready to embark on a new career path after serving the NYC Police Department as a Detective for twenty-two long years. After retiring from her job, Tanya has always wanted to be in the beauty industry. Prior to the launch of her spray tanning business, Tanya has completed her hands-on airbrush tanning certification program at the Hollywood Airbrush Tanning Academy in their Connecticut location. This Southern-California based training school is known to offer an entrepreneurial airbrush tanning training program which includes online training combined with hands-on spray tanning training, so students can learn how to use an HVLP spray gun. Hollywood Airbrush Tanning Academy is owned and managed by distinguished spray tanning expert Simone Emmons. Simone owns her own airbrush tanning business in Los Angeles, California and students are invited to visit and learn from her own airbrush tanning business.
When asked about the reason behind opting for airbrush tanning as her new career path, Tanya said, "I want a different career path. Something I enjoy and love doing and in the beauty industry. I wanted to do this many years ago, but was unable to pursue due to such a time consuming career and motherhood. I tried before. Hopefully, I can succeed this time."
Tanya's present business goal is to follow her dreams and make people happy. At present, her business BlissfulBeauTee is serving clients in Upper Westchester (NY), Putnam County (NY), Lower Dutchess County (NY), and Danbury (CT). She can be reached for spray tanning service inquiries at 1-347-231-4783 or at https://www.instagram.com/BlissfulBeauTee
Tanya Merentis strongly feels that the training received at the Hollywood Airbrush Tanning Academy will help immensely in her new career. Highlighting the most important benefits of this training session, she says, "I learned how to prevent clients from getting orange and give them an even tan. I was also trained on the types of solution and machine that is good for you. I would never have known this if it wasn't for this course."
The harmful health impacts of traditional tanning are now known to all. As a result, the popularity of airbrush tanning is rising steadily all over the world. This tanning technique is completely sunless, and therefore, doesn't expose the skin to the sun's UV radiation. Hollywood Airbrush Tanning Academy has been one of the pioneers in the country in this emerging field. Most of their students have now built a steady career as an independent airbrush tanning specialist. The academy has opened their new branch in Connecticut to be able to accept new students from the East Coast and other nearby states. Weekly airbrush tanning classes are provided by their trainer Tammy in Branford, Connecticut. Students are invited to train at Tammy's own airbrush tanning business.
About Hollywood Airbrush Tanning Academy:
Hollywood Airbrush Tanning Academy is located in Los Angeles, California and offers an extensive Spray Tanning Certification program to individuals who want to start their own full or part-time airbrush tanning business. Founder and trainer, Simone Emmons is a professional spray tanning expert and teacher and has trained over 300 entrepreneurs from 27 states (and counting) including international students from Trinidad, South Korea, Kuwait and Canada. Simone's airbrush tanning business has won the "Best of Los Angeles Award 2015" for airbrush tanning in Los Angeles. The spray tanning training provided by the Hollywood Airbrush Tanning Academy is private and hands-on and prepares the student to start in business immediately. Prior to the hands-on training, over four hours of videos lessons are provided to students covering everything from safety and technique to marketing and Search engine optimization. Hollywood Airbrush Tanning Academy does not sell any of their own products and provides training and education on all equipment and spray tanning solutions in the sunless industry. The academy provides hands-on training classes in Los Angeles and Connecticut area as well as online airbrush tanning certification classes.
Visit HollywoodAirbrushTanningAcademy.com to sign up for the next spray tanning class or call Hollywood Airbrush Tanning Academy at (818) 674-9621 for more information.