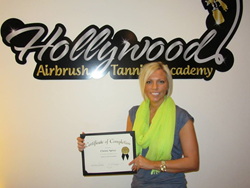 Hollywood Airbrush Academy provides industry information that would take years of testing, which could be extremely costly to students to build a successful business
Los Angeles, CA (PRWEB) August 11, 2015
Hollywood Airbrush Tanning Academy is pleased to announce that their recent student Christy Spivey has completed her airbrush tanning certification program. After the completion of her hands-on training program, Christy has now opened her new airbrush tanning business Luminosity Spray Tan in Phoenix. Hollywood Airbrush Tanning Academy is a popular name in America's beauty and wellness industry for their hands-on spray tanning certification program. Students fly in from all over the world to learn the advanced and flawless spray tanning technique at the academy. Apart from the techniques of sunless tanning, the academy also provides all types of marketing and branding support to help their students become successful entrepreneurs in the emerging field of airbrush tanning.
Originally from Columbia, South Carolina, Christy Spivey has been serving the beauty industry for eighteen years as a licensed aesthetician and makeup artist. Several members of her family had been cancer sufferers so Christy is a passionate supporter of many non-profit cancer organizations.
Talking about her interest in learning the techniques of airbrush tanning, Christy says, "Healthy radiant skin has always been my biggest motto in my aesthetic practice. After the loss of a family member that suffered from Melanoma, I knew that incorporating sunless tanning would be a great fit as well as provide a platform to educate my clients of the dangers of UV radiation."
After the launch of Luminosity Spray Tan, Christy's goal is to provide superior customer service to each of her clients. She is confident about becoming the most sought after airbrushing tanning artist in Phoenix. Christy also aspires to get involved as a spray tanning expert with events such as future Miss Arizona Pageant and OCB, NPC and IFBB Bodybuilding/Fitness Competitions in Phoenix, Arizona.
Christy is currently offering her spray tanning service in Phoenix, Anthem, Cave Creek, Desert Hills, New River, Deer Valley, Carefree, Peoria, Glendale, Surprise, and Scottsdale. She can be reached for service requests at http://www.luminosityspraytan.com or 623-312-8995.
Christy believes that her training at the Hollywood Airbrush Tanning Academy will help her immensely as a professional. Before coming to the hands-on training course, Christy also completed a 4-hour online course, learning about skin types, FDA recommendations, spray tanning machines and spray tanning solutions, protections for clients and so much more. Talking about her training at the academy, Christy says, "Hollywood Airbrush Academy provides industry information that would take years of testing, which could be extremely costly to students to build a successful business. Literally, A to Z. Another plus is the constant support of the airbrush academy graduates and Simone at any time. "
About Hollywood Airbrush Tanning Academy:
Hollywood Airbrush Tanning Academy is located in Los Angeles, California, and offers an extensive Airbrush Tanning Certification program to anyone who wishes to learn airbrush tanning. Simone Emmons, the creator of the airbrush tanning training program, has been a professional spray tanning technician and teacher and has helped many entrepreneurs from Louisiana, Kentucky, Idaho, Utah, Colorado, Nevada, Minnesota, Texas, Georgia, Arizona, Alabama, South Carolina, North Carolina, Illinois, Indiana, Washington, Oregon, Florida, Oklahoma, Alaska, Ohio, California, New York, New Jersey, Canada and the Islands of Hawaii and Trinidad and Tobago start a business in Airbrush Tanning. The airbrush tanning program is unique because it provides hands-on and private airbrush tanning training to individuals who want to start an Airbrush Tanning Business. According to Emmons, this spray tanning program gives individuals a leading edge in starting an Airbrush Tanning business immediately after finishing training. Students have the option to choose from a full day course of 10-12 hours or two half day courses of 5-6 hours a day or through live video conferencing. The academy has also launched a website so students can learn Airbrush Tanning Online. Many tanning training institutions only educate students on their own equipment and products they sell; however, Hollywood Airbrush Tanning Academy does not sell any of their own products and provides training and education on all equipment and good products in the airbrush tanning industry.
Individuals interested in learning airbrush tanning and starting their own Airbrush Tanning Business should visit the website at Hollywood Airbrush Tanning Academy, or for more detailed information about the airbrush tanning classes, visit 1DaySprayTanTraining.com.