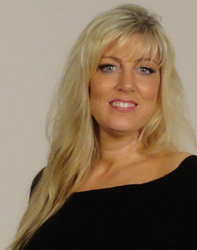 I decided to start this telephone consultation service because it will create a way for me to assist others who already have the preliminary knowledge of airbrush tanning, but want to advance or need additional help in improving the outcome of their tans
Los Angeles, CA (PRWEB) September 08, 2014
America's leading airbrush tanning training school Hollywood Airbrush Tanning Academy has just added an additional service by introducing telephone consultation services. This Los Angeles, California based academy is renowned for their airbrush tanning certification program where aspiring spray tanning technicians from all over the world, receive hands-on training to master the art and business of sunless tanning. Instead of following the traditional approach to training, Hollywood Airbrush Tanning Academy also helps their students start their new business in this emerging field. Simone's business acumen and expertise in spray tanning has been instrumental behind the success of many of her students.
Hollywood Airbrush Tanning Academy's new telephone consultation service is tailor-made for other airbrush tanners looking for additional support to run their business successfully. This new service can be extremely useful for technicians that have already completed their certification program from somewhere else, but are still facing issues related to their spray tanning outcome or customers. Simone's telephone consultation, however, is not intended for people that need advice or training on Simone's spray tanning techniques as this demands hands-on training in a private environment.
Simone Emmons is one of the most acclaimed names in the country's expanding airbrush tanning industry. In addition to her training academy, Simone also runs a popular airbrush tanning salon in Studio City named Simone's Airbrush Tanning. Simone's huge list of clients includes several well known celebrities including movie personalities, politicians, musicians, sports personalities, and more.
Talking about the objective behind introducing this new service, Simone says, "I receive many calls from people asking for my guidance on spray tanning but my time is very limited. I decided to start this telephone consultation service because it will create a way for me to assist others who already have the preliminary knowledge of airbrush tanning, but want to advance or need additional help in improving the outcome of their spray tans. I hope to solve many of their problems over the phone."
At present, Simone's telephone consultation service is available in durations of 15 minutes, 30 minutes, and one hour with consultation charges of $75, $100, and $175 respectively. To find out more or to book a slot for Simone's consultation service over the phone, please visit http://hollywoodairbrushtanningacademy.com/airbrush-tanning-telephone-consultation
About Hollywood Airbrush Tanning Academy:
Hollywood Airbrush Tanning Academy is located in Los Angeles, California and offers an extensive Spray Tanning Certification program to anyone who wishes to learn spray tanning. Simone Emmons, the creator of the spray tanning training program, has been a professional, licensed spray tanning technician and teacher, and has helped numerous entrepreneurs from Louisiana, Kentucky, Idaho, Utah, Colorado, Nevada, Minnesota, Texas, Georgia, Arizona, Alabama, South Carolina, North Carolina, Illinois, Indiana, Washington, Oregon, Florida, Oklahoma, Alaska, Ohio, California, New York, New Jersey, Canada, and the Island of Hawaii and Trinidad start a business in Airbrush Tanning. The spray tanning program is unique because it provides hands-on and private spray tanning training to individuals who want to start an Airbrush Tanning Business. According to Emmons, this spray tanning program gives individuals a leading edge in starting an Airbrush Tanning business immediately after finishing with the training. Students have the option to choose from a full-day course of 10-12 hours, or two half-day courses of 5-6 hours a day or through live video conferencing. The academy is also launching a website soon so students can learn Airbrush Tanning Online. Many tanning training institutions only educate students on their own equipment and products they sell; however, Hollywood Airbrush Tanning Academy does not sell any of their own products and provides training and education on all equipment and good products in the airbrush tanning industry.
Individuals interested in learning spray tanning and starting their own Airbrush Tanning Business should visit the website at Hollywood Airbrush Tanning Academy, or for more detailed information about the airbrush tanning classes, visit 1DaySprayTanTraining.com.