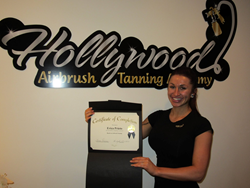 I want my business to grow and be known for the best spray tans around, hopefully one day become a trainer under Simone and educate people on the dangers of sun exposure and show them you can still be beautifully tanned without any further damage to their
Los Angeles, CA (PRWEB) April 06, 2016
Hollywood Airbrush Tanning Academy is pleased to share the success story of their recently graduated student Erica Prieto from Petaluma, CA. After the completion of her hands-on spray tanning certification from the Los Angeles-based airbrush tanning training school, Erica has now added airbrush tanning to her eyelash extension business "Glittered." Hollywood Airbrush Tanning Academy is renowned all over the country for their hands-on spray tanning training programs. This program not only teaches the intricacies of airbrush tanning, but also offers necessary business and marketing support for opening a new spray tanning business.
Erica Prieto came to the Hollywood Airbrush Tanning Academy as a referral from one of their previous students. She is an experienced beauty professional offering eyelash extension service for many years. Now, with the launch of her new spray tanning business, Erica is looking to offer the great combination of eyelash extension and spray tanning.
Highlighting her business goals, Erica mentioned, "I want my business to grow and be known for the best spray tans around, hopefully one day become a trainer under Simone and educate people on the dangers of sun exposure and show them you can still be beautifully tanned without any further damage to their skin."
The traditional concept of tanning is no longer acceptable to many former tanning bed addicts because the adverse impacts of the sun's UV rays on human skin are now well established. Airbrush or spray tanning is steadily emerging now as the most viable alternative for people that love tanning. Led by highly rated airbrush tanning expert Simone Emmons, Hollywood Airbrush Tanning Academy has played a pivotal role in popularizing this concept in America. Simone is extremely popular with all her students for her exceptional mentoring skills and friendly demeanor.
Talking about the most important benefit of getting trained at the Hollywood Airbrush Tanning Academy, Erica stated, "The technique of application most definitely has been the key to quality work I have learned through the training, along with learning what the best spray tanning solutions are and what ingredients to look for and the ones to stay away from. "
Erica is currently serving customers in Petaluma, Rohnert Park, Santa Rosa, Novato, and San Rafael. She can be reached for business related inquiries at 707-338-7446 or http://www.Glittered.co.
About Hollywood Airbrush Tanning Academy:
Hollywood Airbrush Tanning Academy is located in Los Angeles, California and offers an extensive Spray Tanning Certification program to individuals who want to start their own full or part-time airbrush tanning business. Founder and trainer, Simone Emmons is a professional spray tanning expert and teacher and has trained over 300 entrepreneurs from 27 states (and counting) including international students from Trinidad, South Korea, Kuwait and Canada. Simone's airbrush tanning business has won the "Best of Los Angeles Award 2015" for airbrush tanning in Los Angeles. The spray tanning training provided by the Hollywood Airbrush Tanning Academy is private and hands-on and prepares the student to start in business immediately. Prior to the hands-on training, over four hours of videos lessons are provided to students covering everything from safety and technique to marketing and Search engine optimization. Hollywood Airbrush Tanning Academy does not sell any of their own products and provides training and education on all equipment and spray tanning solutions in the sunless industry. The academy provides hands-on training classes in Los Angeles and Connecticut area as well as online airbrush tanning certification classes.
Visit HollywoodAirbrushTanningAcademy.com to sign up for the next spray tanning class or call Hollywood Airbrush Tanning Academy at (818) 674-9621 for more information.