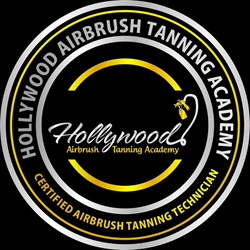 It is my hope that many of my previous students will become trainers down the road because I want to grow my academy worldwide. There is a great need for hands-on training in every city
Los Angeles, CA (PRWEB) February 12, 2015
Hollywood Airbrush Tanning Academy is making quick progress towards becoming a worldwide training platform for the aspiring spray tanning professionals. Known as a top rated airbrush tanning training school to learn the art and business of sunless tanning, Hollywood Airbrush Tanning Academy has a rich tradition in providing online airbrush tanning training to people that cannot fly to the academy in Los Angeles. Online airbrush tanning is not new to the academy as they trained their first online student 2 years ago. Their first online student was from Honolulu, Hawaii and another student was from Maui, Hawaii. The Southern California based organization is owned and managed by renowned spray tanning expert Simone Emmons who also owns her own airbrush tanning business in Los Angeles. Simone continues to spray tan models, fitness professionals and TV personalities on a daily basis in addition to training new students every week since the year of 2011.
The concept of airbrush tanning is brand new in Morocco. Inspired by the popular TV show "Keeping Up With The Kardashians", the people of Morocco are gradually becoming aware of airbrush tanning. Talking about her first ever student from Morocco, Simone says, "My student is opening up a salon in a few months and I'm getting her ready to be able to offer custom airbrush tanning within her own salon. I'm very excited to be able to share the healthier alternative of tanning with her."
Simone has also announced that she is about to devote more time to online airbrush tanning training to assist individuals that cannot attend her hands-on spray tan course because of the distance and/or financial reasons to travel. Simone offers many high quality training videos through her private membership website. In addition to meeting all her students online, she also creates additional private videos in case students don't understand certain parts of the training. Simone says, "My students wanted to learn how I do everything in my own business and this is how my training program advanced over the years."
Expressing her excitement about building a worldwide identity as a spray tanning trainer, Simone says, "I'm excited that other people from other countries are learning with the academy. It is my hope that many of my previous students will become trainers down the road because I want to grow my academy worldwide. There is a great need for hands-on training in every city."
About Hollywood Airbrush Tanning Academy:
Hollywood Airbrush Tanning Academy is located in Los Angeles, California, and offers an extensive Spray Tanning Certification program to anyone who wishes to learn spray tanning. Simone Emmons, the creator of the spray tanning training program, has been a professional spray tanning technician and teacher and has helped numerous entrepreneurs from Louisiana, Kentucky, Idaho, Utah, Colorado, Nevada, Minnesota, Mississippi, Texas, Georgia, Arizona, Alabama, South Carolina, North Carolina, Illinois, Indiana, Washington, Oregon, Florida, Oklahoma, Alaska, Ohio, California, New York, New Jersey, South Korea, Kuwait, Canada and the Islands of Hawaii and Trinidad start a business in Airbrush Tanning. The spray tanning program is unique because it provides hands-on and private spray tanning training to individuals who want to start an Airbrush Tanning Business. According to Emmons, this spray tanning program gives individuals a leading edge in starting an Airbrush Tanning business immediately after finishing training. Students have the option to choose from a full day course of 10-12 hours or two half day courses of 5-6 hours a day or through live video conferencing. The academy has also launched a website so students can learn Airbrush Tanning Online. Many tanning training institutions only educate students on their own equipment and products they sell; however, Hollywood Airbrush Tanning Academy does not sell any of their own products and provides training and education on all equipment and good products in the airbrush tanning industry.
Individuals interested in learning spray tanning and starting their own Airbrush Tanning Business should visit the website at Hollywood Airbrush Tanning Academy, or for more detailed information about the airbrush tanning classes, visit 1DaySprayTanTraining.com.