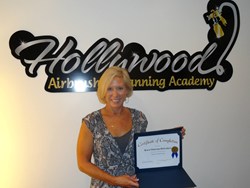 I am proud to say I was trained by the best, thank you Simone!
Los Angeles, CA (PRWEB) August 01, 2013
Southern California-based spray tanning training center Hollywood Airbrush Tanning Academy has hit the headlines once again with the successful certification of yet another student. This academy is a renowned name in the country's beauty industry as it provides hands-on spray tanning certification classes for the aspiring airbrush tanning technicians. Their certification program provides all the necessary support to students in starting their own, independent spray tanning business. Hollywood Airbrush Tanning Academy's latest certified graduate is Kara Belvedere, and Kara loves the look of tanning and always wanted to have her own business. Now her own spray tanning company Sinless Tan is offering services in and around Ventura, California.
In addition to running the catering department for their family-owned Italian restaurant "Ottavios" in Camarillo, Kara is also a distributor for Arbonne international health products. Like many tanning enthusiasts throughout the world, Kara started getting spray tans because she wanted to protect her skin from sun damage. Now she intends to share this with others so they can feel great about themselves without baking in the sun. Talking about her future business goals, Kara says, "I want to create awareness of the harmful damage the sun can do, and to give others the confidence they desire to get outside (with sunscreen) and wear those fun summer clothes without feeling so pale. I wish to turn them on to a new, healthy addiction!"
Hollywood Airbrush Tanning Academy's owner, founder, and chief instructor Simone Emmons is a respected personality in her field. Her training technique has already received appreciation from her students all over the country and beyond. Thanking Simone for her support, Kara said, "After taking Simone's course I realized that there is more to learning how to Airbrush Tan, correctly than most would think! Her technique is an art and a learned skill that obviously many other airbrush technicians have not mastered! I am proud to say I was trained by the best, thank you Simone!"
Anyone looking for premium quality sunless tanning in Ventura, Camarillo, Thousand Oaks, Newbury Park, Somis, and Oxnard, California can get in touch with Kara by calling her at 805.377.6349 or sending a service request through her website http://www.sinlesstanmobile.com.
About Hollywood Airbrush Tanning Academy:
Hollywood Airbrush Tanning Academy is located in Los Angeles, California and offers an extensive Airbrush Tanning Certification program to anyone who wishes to learn the art and business of spray tanning. Simone Emmons, the creator of the spray tanning training program, has been a professional, licensed spray tanning technician and teacher and has helped numerous entrepreneurs from Utah, Colorado, Nevada, Minnesota, Arizona, Alabama, South Carolina, North Carolina, Illinois, Indiana, Washington, Oregon, Florida, Oklahoma, Alaska, Ohio, California, Canada and the Island of Hawaii and Trinidad start a business in Airbrush Tanning. The spray tanning program is unique because it provides hands-on and private spray tanning training to individuals who want to start an Airbrush Tanning Business. According to Emmons, this spray tanning program gives individuals a leading edge in starting an Airbrush Tanning business immediately after finishing with the training. Students have the option to choose from a full day course of 10-12 hours or two half day courses of 5-6 hours a day or through live video conferencing. The academy is also launching a website soon so students can learn Airbrush Tanning Online. Many tanning training institutions only educate students on their own equipment and products they sell; however, Hollywood Airbrush Tanning Academy does not sell any of their own products and provides training and education on all equipment and good products in the airbrush tanning industry. Recently, the academy added an additional trainer to hold airbrush tanning classes on the East Coast. Weekly classes are now also available in Charlotte, North Carolina and Lewisburg, West Virginia.
Individuals interested in learning and starting a career in airbrush tanning should visit the website at HollywoodAirbrushTanningAcademy.,or for more detailed information about the airbrush tanning classes, visit 1DayAirbrushTanningTraining.com.