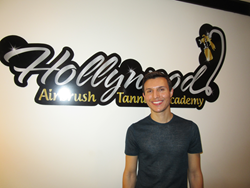 I enjoyed the internship at the academy from beginning to end because it is not the typical internship where you go grab coffee and food for your supervisor and only get to watch him/her do the real job but it is one hundred percent hands on from day one
Los Angeles, CA (PRWEB) April 24, 2015
Hollywood Airbrush Tanning Academy, the leader in hands-on airbrush tanning training, proudly announces the successful completion of internship of Jose Sandoval Sazo, their first intern. It may be recalled that this internship program was launched recently by the company for creative and talented professionals. Hollywood Airbrush Tanning Academy is a familiar name in America's beauty community for their popular online and hands-on airbrush tanning certification program. Their new internship program is for working professionals from fields such as video editing, photography, public relations, web design, graphic design, social media marketing, content writing, etc.
Hollywood Airbrush Tanning Academy's first intern Jose Sandoval Sazo is a student of Bachelor of Arts Degree in Television, Film and Media Studies with an option in telecommunications and film from the California State University Los Angeles. As an intern at the Hollywood Airbrush Tanning Academy, Jose has worked successfully as a videographer and video editor.
In the future, Jose Sandoval Sazo wants to become an editor for film and television. Talking about her academy's first intern, Simone says, "He is going to the California State University Los Angeles and was able to apply his video editing knowledge by gaining hands-on experience on the job, editing spray tanning training videos and making short video stories about the academy. Jose has been very dedicated and is also very detail oriented when editing the videos and this will be a great asset to any of his future employers. I highly recommend him and I know he will always do a great job with whatever job he will take on."
The final video story created by Jose Sandoval Sazo as an intern at the Hollywood Airbrush Tanning Academy can be seen at: https://youtu.be/G9UL4VjVT_Q
Talking about his experience as Hollywood Airbrush Tanning Academy's first intern, Jose said, "I enjoyed the internship at the academy from beginning to end because it is not the typical internship where you go grab coffee and food for your supervisor and only get to watch him/her do the real job but it is one hundred percent hands on from day number one. I got to master the different things I had already learned at school and it also allowed me to learn different things by learning from my mistakes." Jose has also expressed high regards for Simone for making his internship a great learning experience. "It was a pleasure working by Simone's side; she was there to help me all the time whenever I needed help and taught me a couple of things I didn't know about online media. I totally recommend other students to apply for an internship at the academy because what you'll learn here is what you will really use in the future as a professional," he said.
Hollywood Airbrush Tanning Academy is inviting talented candidates to fill Internship positions in public relations, social media, content writing and web design/graphic design. Interested candidates may apply directly to Simone Emmons through the Hollywood Airbrush Tanning Academy website.
About Hollywood Airbrush Tanning Academy:
Hollywood Airbrush Tanning Academy is located in Los Angeles, California, and offers an extensive Spray Tanning Certification program to anyone who wishes to learn spray tanning. Simone Emmons, the creator of the spray tanning training program, has been a professional, spray tanning technician and teacher and has helped numerous entrepreneurs from Louisiana, Kentucky, Idaho, Utah, Colorado, Nevada, Minnesota, Texas, Georgia, Arizona, Alabama, South Carolina, North Carolina, Illinois, Indiana, Washington, Oregon, Florida, Oklahoma, Alaska, Ohio, California, New York, New Jersey, Canada and the Islands of Hawaii and Trinidad and Tobago start a business in Airbrush Tanning. The spray tanning program is unique because it provides hands-on and private spray tanning training to individuals who want to start an Airbrush Tanning Business. According to Emmons, this spray tanning program gives individuals a leading edge in starting an Airbrush Tanning business immediately after finishing training. Students have the option to choose from a full day course of 10-12 hours or two half day courses of 5-6 hours a day or through live video conferencing. The academy is also launching a website soon so students can learn Airbrush Tanning Online. Many tanning training institutions only educate students on their own equipment and products they sell; however, Hollywood Airbrush Tanning Academy does not sell any of their own products and provides training and education on all equipment and good products in the airbrush tanning industry.
Individuals interested in learning spray tanning and starting their own Airbrush Tanning Business should visit the website at Hollywood Airbrush Tanning Academy, or for more detailed information about the airbrush tanning classes, visit 1DaySprayTanTraining.com.