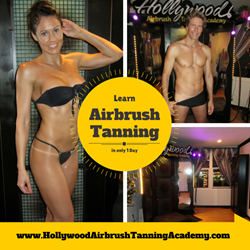 I am happy that Tammy has decided to help in providing the airbrush tanning classes in her location in Ventura, CA so we can share this growing business opportunity with more individuals."
Los Angeles, CA (PRWEB) February 25, 2015
Renowned airbrush tanning training school Hollywood Airbrush Tanning Academy has announced that they will now conduct hands-on training sessions in Ventura, California for a special rate of $799, instead of their regular rate of $999. This Southern California based academy is presently a well-known training destination for America's aspiring spray tan technicians. Hollywood Airbrush Tanning Academy was founded in 2011 by experienced spray tanning expert Simone Emmons. Within a very short lifespan, the Hollywood Airbrush Tanning Academy has made noteworthy contributions in the country's emerging spray tanning industry. Hollywood Airbrush Tanning Academy offers hands-on spray tanning certification programs targeted towards helping students start their own airbrush tanning business. The academy has already trained over 250 students worldwide including students coming from South Korea, Morocco, Canada, Kuwait and Trinidad.
Hollywood Airbrush Tanning Academy cares about the success rate of each student. It has always preferred offering quality training to a limited number of students in each class rather than signing up a large number of trainees at the same time. Founder and trainer of the academy, Simone Emmons explains, "This enables us to focus on each student by teaching them all the details about the business as well as the spray tanning technique including teaching each students on how they can market themselves in their new business." As a result, the academy has found it difficult to provide adequate training slots to accommodate all interested applicants. Hollywood Airbrush Tanning Academy has now contracted one of their most illustrious former student Tammy Becker to provide airbrush tanning classes in Ventura, California area. This makes it possible for the academy to accept more students and will be a great opportunity for individuals traveling from nearby areas such as Santa Barbara, Oxnard, Camarillo and Carpinteria, California.
The airbrush tanning training classes conducted in Ventura, California will be weekend classes and will be hands-on with live models to provide adequate practice for students to learn the spray tanning technique. Before coming to the hands-on training class, all students start off with a Basic Video Airbrush Tanning course in order to get basic knowledge about different spray tanning machines, spray tanning solutions, skin types and where to purchase everything directly. As an added benefit, they will receive a discounted rate of $799 for training with Tammy in Ventura, California. This discounted rate is limited and only available for the airbrush tanning classes conducted by Tammy Becker.
Talking about her company's new airbrush tanning training classes in Ventura County, Simone Emmons said, "We are getting in to the busy season soon and more and more people want to learn airbrush tanning now. I'm getting booked up very quickly already for February and March. Therefore, I needed to ask Tammy to help in training. I am happy that Tammy has decided to help in providing the airbrush tanning classes in her location in Ventura, CA so we can share this growing business opportunity with more individuals."
About Hollywood Airbrush Tanning Academy:
Hollywood Airbrush Tanning Academy is located in Los Angeles, California, and offers an extensive Spray Tanning Certification program to anyone who wishes to learn spray tanning. Simone Emmons, the creator of the spray tanning training program, has been a professional, spray tanning technician and teacher and has helped numerous entrepreneurs from Louisiana, Kentucky, Idaho, Utah, Colorado, Nevada, Minnesota, Texas, Georgia, Arizona, Alabama, South Carolina, North Carolina, Illinois, Indiana, Washington, Oregon, Florida, Oklahoma, Alaska, Ohio, California, New York, New Jersey, Canada and the Islands of Hawaii and Trinidad and Tobago start a business in Airbrush Tanning. The spray tanning program is unique because it provides hands-on and private spray tanning training to individuals who want to start an Airbrush Tanning Business. According to Emmons, this spray tanning program gives individuals a leading edge in starting an Airbrush Tanning business immediately after finishing training. Students have the option to choose from a full day course of 10-12 hours or two half day courses of 5-6 hours a day or through live video conferencing. The academy is also launching a website soon so students can learn Airbrush Tanning Online. Many tanning training institutions only educate students on their own equipment and products they sell; however, Hollywood Airbrush Tanning Academy does not sell any of their own products and provides training and education on all equipment and good products in the airbrush tanning industry.
Individuals interested in learning spray tanning and starting their own Airbrush Tanning Business should visit the website at Hollywood Airbrush Tanning Academy, or for more detailed information about the airbrush tanning classes, visit 1DaySprayTanTraining.com.