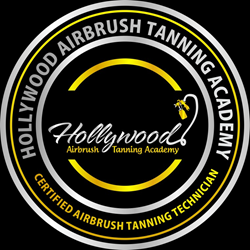 I am so proud of him and it's very inspiring to see him succeed with all his ventures and ideas.
Los Angelels, CA (PRWEB) October 25, 2014
Hollywood Airbrush Tanning Academy, a training academy renowned for their hands-on airbrush tanning certification program, has just started a unique initiative to showcase the success of their previous students. This Southern California based airbrush tanning training school has the tradition of helping many aspiring airbrush tanning professionals build successful careers in this emerging field. The academy's founder and owner, Simone Emmons, is now conducting video interviews with many of her past students to follow up on their successful spray tanning careers.
In an initiative that Simone Emmons has named "Where Are They Now," she has started conducting video interviews of her most illustrious students from the past. Simone has also published a blog post on the academy's website highlighting the success of these students. The first student from the academy to be interviewed by Simone is Dennard Hegna from Fairbanks, Alaska.
Dennard Hegna came to train at the Hollywood Airbrush Tanning Academy in 2013, immediately after purchasing his tanning salon. At that point of time, Dennard's sole idea was to add spray tanning to his tanning salon service offerings. At present, Dennard also offers tanning beds, red light therapy, and teeth whitening services. However, what helped Dennard to stand apart from other tanning businesses is a combination of tanning and Chaga tea. Chaga has a very high proportion of antioxidants in it and comes from the Birch trees in Alaska. Dennard informs in the video that he harvests the Chaga directly from the birch trees and then makes it into a tea.
Talking about the successful career of her student Dennard Hegna, Simone Emmons said, "I am so proud of him and it's very inspiring to see him succeed with all of his ventures and ideas. He really educated me on Chaga since I never heard of it before. There is a lot more to come his way and he shared everything in this video. I'm hoping he will become a trainer for the academy in the near future."
The entire video interview of Dennard Hegna conducted by Simone Emmons can be seen at the academy's blog post at http://hollywoodairbrushtanningacademy.com/previous-airbrush-tanning-students-success-story-fairbanks-alaska/.
Dennard Hegna's business can be found on Facebook at https://www.facebook.com/tansntea.
Hollywood Airbrush Tanning Academy provides hands-on and online airbrush tanning certification classes that are tailor-made for anyone wanting to start an airbrush tanning business and learn the techniques of spray tanning. Apart from airbrush tanning techniques, the academy also provides valuable marketing, promotional and networking support to help their students launch their own independent airbrush tanning business ventures.
About Hollywood Airbrush Tanning Academy:
Hollywood Airbrush Tanning Academy is located in Los Angeles, California, and offers an extensive Spray Tanning Certification program to anyone who wishes to learn spray tanning. Simone Emmons, the creator of the spray tanning training program, has been a professional, licensed spray tanning technician and teacher and has helped numerous entrepreneurs from Louisiana, Kentucky, Idaho, Utah, Colorado, Nevada, Minnesota, Texas, Georgia, Arizona, Alabama, South Carolina, North Carolina, Illinois, Indiana, Washington, Oregon, Florida, Oklahoma, Alaska, Ohio, California, New York, New Jersey, Canada and the Islands of Hawaii and Trinidad and Tobago start a business in Airbrush Tanning. The spray tanning program is unique because it provides hands-on and private spray tanning training to individuals who want to start an Airbrush Tanning Business. According to Emmons, this spray tanning program gives individuals a leading edge in starting an Airbrush Tanning business immediately after finishing training. Students have the option to choose from a full day course of 10-12 hours or two half day courses of 5-6 hours a day or through live video conferencing. The academy is also launching a website soon so students can learn Airbrush Tanning Online. Many tanning training institutions only educate students on their own equipment and products they sell; however, Hollywood Airbrush Tanning Academy does not sell any of their own products and provides training and education on all equipment and good products in the airbrush tanning industry.
Individuals interested in learning spray tanning and starting their own Airbrush Tanning Business should visit the website at Hollywood Airbrush Tanning Academy, or for more detailed information about the airbrush tanning classes, visit 1DaySprayTanTraining.com.