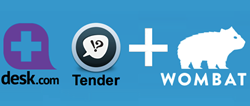 Bethesda, MD (PRWEB) December 02, 2014
Spree Commerce has upgraded the Tender and Desk.com integrations for its automated ecommerce integration platform, Wombat. Now, connecting with these integrations is just a matter of a few minutes.
Wombat connects storefronts' mission-critical, ecommerce services with the most effective arsenal of integrations in the industry. By making the connection to leading communication and customer service integrations like Tender and Desk.com, Wombat users can automate their email and messaging efforts.
Specific benefits users will gain with these integrations include the ability to:

Receive notifications when errors occur so that customer service can be proactive
Ensure accuracy of customer information to avoid potential shipping problems
Allow customer service representatives to quickly resolve issues and ensure customer satisfaction
"In ecommerce, great customer service starts with great communication," said Spree Commerce COO Josh Resnik. "By automating these efforts, you ensure the communication aspect of your orders is right from the very start; no nasty surprises down the road when you figure out too late that there was a typo in the customers' information."
Get accurate and reliable access to Tender and Desk.com by signing up for a free two-week integration platform trial of Wombat. For technical documentation on these integrations, visit the Wombat knowledge base.
About Spree Commerce
Spree Commerce offers one of the most popular ecommerce platforms in the world. The modular platform allows for easy customization so developers and store owners can configure Spree for their specific needs. With an active and growing community, Spree is now one of the top open source technology projects in the world.
Spree Commerce is also the creator of Wombat. Wombat is an integration platform that's comprehensive enough for large ecommerce stores and easy enough for small online merchants. Wombat works with all leading storefront platforms and integrates every mission critical service in just minutes, not weeks or months. Automate every aspect of your business and never worry about losing an order, integrating your ERP, POS or logistics providers. Connect any store to any service, no custom code required. To learn more visit https://wombat.co.